Travel Ideas
Accessible Possibilities
Summer Guide to Accessible Beaches
Making Progress in Beach Accessibility
In recent years, more beaches around the country have tried to become accessible, adding walkways over the sand and wheelchairs to navigate both sand and water.





San Luis Reservoir SRA - Beach Access Route, Photo: California State Parks
"There have been numerous steps taken to make state park beaches more accessible," said Elyssa Finkelstein, spokeswoman for the Florida Department of Environmental Protection, one of many agencies in many states working to improve beach access. But the project can be challenging.

While added features now help many people enjoy the sea and the sand, barriers still remain. Accessible walkways often don't reach all the way to the water during low tides because that would mean they would be covered by water during high tides, which could lead to damage or unsafe conditions, said Jeremy Buzzell, chief of accessibility program support at the National Parks Service.
"We make our best efforts, but beach access can be challenging," Buzzell said. "It's very hard to install permanent structures that hold up to weather and tides."



Montana de Oro SP - Beach Access Route, Photo: California State Parks
Beach wheelchairs can also be helpful, but are offered in limited number only during certain hours and only at a few specific locations because they must be properly stored and maintained by staff members.
Meanwhile, public expectations are growing for beaches and other recreation areas to be open to those with disabilities, said Sherril York, executive director of the National Center on Accessibility at Indiana University, which studies and promotes accessibility at parks and recreation sites. This is partly because since the ADA was passed in 1990, so many public places have become accessible, York explained.
"Because of that history, there is a higher expectation by people with disabilities that the places they want to go and the things they want to do are accessible," York said.
"The return of wounded veterans from our most recent conflicts in the Middle East has also increased the need for greater accessibility. These young disabled veterans want to go back and do the recreational activities they did before their injury, thus adding to the need to provide accessible opportunities."
Below are some beaches we found in each region that really stand out for ease of accessibility.
Grommet Island Beach Park & Playground, Virginia Beach | Virginia Beach Convention & Visitors Bureau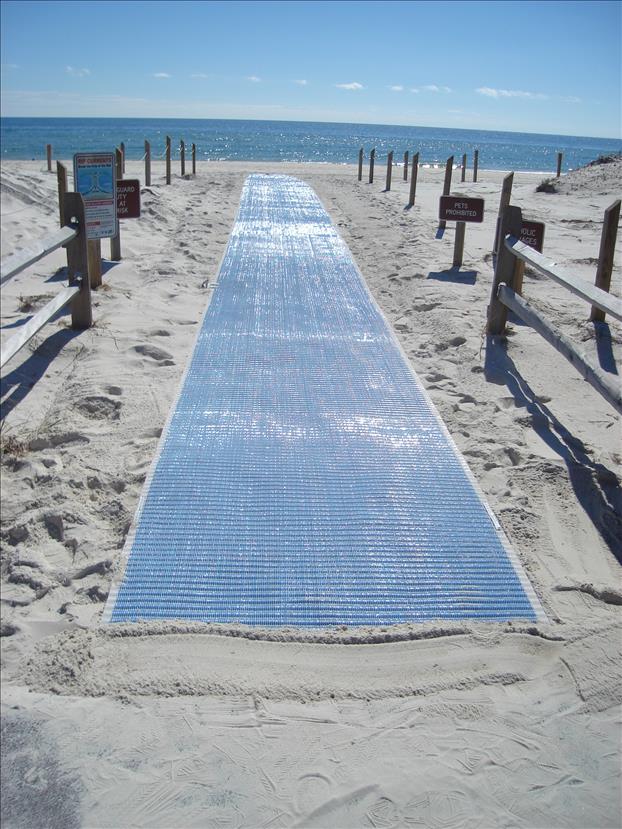 Mobi Mat for beach access | Florida Dept of Environmental Protection
Siesta Beach in Sarasota County in southwest Florida has a 400-foot walkway stretching from the paved parking lot to the shoreline, making it easy for those using wheelchairs, walkers or strollers to not only go out onto the beach, but to reach the water. There are also free beach wheelchairs here, and at other beaches throughout Sarasota County, which recently has made extra efforts to work with the public to make beaches more accessible.
Many beaches in and around Destin, in northern Florida, offer accessible wooden walkways and ramps to the beaches. The city of Destin offers free beach wheelchairs, but reservations are recommended. And some private companies, including Destin Wheels and Beach Powered Mobility, offer beach wheelchair and scooter rentals, and can also deliver the needed equipment to you. Destin Wheels and the city also keep an updated map marking which beaches are accessible, and which have accessible restrooms.
In the Miami area, Hollywood Beach has accessible mats at several entrances, leading from parking areas out onto the sand, coming within various distances of the shoreline. Sebastian Street Beach in Fort Lauderdale offers a free beach wheelchair, and a few beaches in Dade County also offer free beach wheelchairs. While many residents of South Florida say the area needs to improve its beach access, there are changes on the horizon. The Sabrina Cohen Foundation is building an accessible beach and playground in Miami Beach, and currently offers free Adaptive Beach Days on the first and third Sunday of each month from April to November, placing a series of accessible walkways on the sand, which lead out to accessible decks on the water, along with beach wheelchairs and a team of volunteers to help out.
There is also a statewide database of all public beaches in Florida that outlines relevant accessibility features. And those who visit state-park beaches are encouraged to submit their stories to Florida's Access for All blog, which can also be a valuable resource for tourists, with reviews of experiences at various state parks.
On South Padre Island, Malaquite Beach, part of the National Seashore national park, offers five beach wheelchairs that can navigate sand and shallow water. There are ramps to the beach, and to the visitor's center, where wheelchairs can be checked out daily. In addition, 12 of the 24 beach access points on South Padre Island are equipped with Mobi-mats that allow those using wheelchairs, scooters, strollers, or walkers to go out onto the sand and come within varying distances of the water.
Narragansett Rhode Island Beach, South Pavilion | Department of Parks & Recreation, Town of Narragansett
Cape Cod has a number of accessible beaches throughout its coastal towns. Many have mats or wooden walkways over the sand, and offer manual or power beach wheelchairs, with some able to go into the water. South Cape Beach in Mashpee is part of a state park and includes an accessible boardwalk with observation deck, hard-packed sand paths onto the beach, and a beach wheelchair that can be taken down to the water. A local website offers a detailed description of which beach in each of the area's towns is the best for those with disabilities.

Hampton Beach in New Hampshire offers beach wheelchairs that can be pushed across the sand and also float in the water. This beach is among dozens around the country that have had beach wheelchairs donated by fundraising initiatives or non-profits. There is also free parking for those with disabled parking placards.

In Rhode Island, Narragansett Town Beach has beach wheelchairs, large accessible bathrooms and a mat over the sand catering to wheelchairs, walkers and strollers. The non-profit MS Dream Center maintains an updated and detailed list of the state's accessible beaches, including what kinds of wheelchairs they offer and whether they have ramps, mats or walkways over the sand.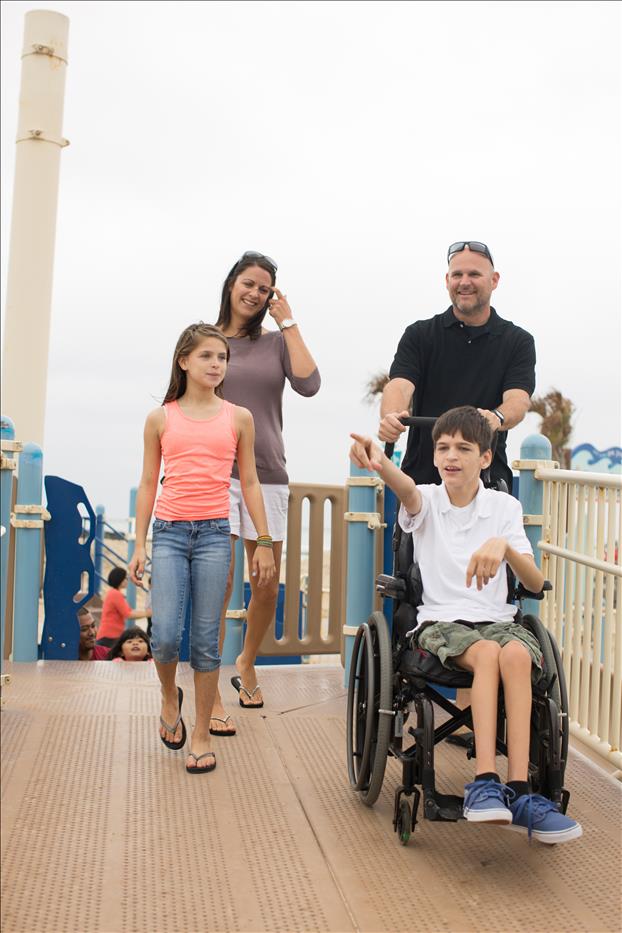 Grommet Island Park | Virginia Beach Convention & Visitors Bureau
In South Carolina, Myrtle Beach, North Myrtle Beach and Surfside Beach offer free beach wheelchairs that can navigate the sand, and that can be reserved months ahead of time to guarantee that you will be able to enjoy the beach on your vacation. In Myrtle Beach, community officers from the local police department will deliver the beach chairs to you at no cost. Chairs at the other beaches can be picked up or delivered to you for a small fee. In all of these places, chairs can be reserved up to a year ahead of time, and checked out for a week at a time. If using on a daily basis, they are available until 5 p.m.

The popular blog Curb Free with Cory Lee has named Virginia Beach as one of the top 10 most accessible beach towns in the world. It was one of the first places in the United States to offer beach wheelchairs. While a few companies rent out chairs, there are also free ones, including at the Grommet Island Park beach, where there is an accessible playground, raised tables for playing with sand, and accessible walkways on the sand. There is also a flat, smooth and accessible 3-mile-long boardwalk along the shore, filled with shops, hotels, restaurants and beautiful views of the Atlantic Ocean.
Silver Beach in the quaint Lake Michigan town of St. Joseph, Michigan, has free beach wheelchairs, and paved walkways to access the pier and the nearby mouth of the St. Joseph River, which feeds into the lake.

North Beach Park in Grand Haven, Michigan, offers free beach wheelchairs, and a wooden walkway out onto the beach. In an area filled with steep sand dunes, this stands out as a popular accessible beach, as there are no stairs or steep inclines between the parking lot and the beach.

The urban shore of Lake Michigan in Chicago has also become more accessible in recent years, with 16 of the city's 31 beaches have accessible walkways leading over the sand all the way to the water's edge.
Asilomar State Beach | California State Parks

In San Diego, Moonlight Beach offers an accessible mat all year around to accommodate wheelchairs and scooters on the sand. This beach is the only one locally to offer free floating beach wheelchairs that can navigate the sand and the water, while several other San Diego beaches offer free power and manual beach wheelchairs that can be used on the sand.

In Newport Beach, beach wheelchairs can be borrowed from the lifeguard stands under Newport Pier and at Corona del Mar State Beach, and employees at both sites will help people into and out of the chairs. There are also several miles of boardwalks and promenades along Newport Beach and Balboa Island, most of which are easily accessible smooth concrete paths, according to local accessibility site Wheelingcalcoast.

Near Los Angeles, Oxnard Beach Park contains one of the country's oldest accessible beaches, with a 900-foot-long concrete path weaving among the sand dunes and leading to the beach. Called Rehab Point Path, it was built more than a quarter century ago thanks to the efforts of disabled World War II veteran Ed Hunt, and also contains accessible picnic areas and plenty of shade from palm trees, according to local accessibility site Wheelingcalcoast.

Along the central coast, Avila Beach has a motorized beach wheelchair that can be checked out for free, but it is recommended to reserve it a day ahead. Local tourism site Discover Central California offers a list of places with beach wheelchairs along California's central coast

In Half Moon Bay State Park, Francis Beach offers a beach wheelchair plus accessible parking and restrooms. There is also a paved trail starting from the parking lot at this beach and extending for more than 2 miles along the coast. A few other beaches within the state park, including Dunes Beach and North and South Venice Beach, offer accessible parking and restrooms.

The California Coastal Commission has a map and list of where beach wheelchairs can be found at the state's most popular beaches.

Cannon Beach on Oregon's Pacific coast offers two free beach wheelchairs that can be reserved ahead of time, or are offered on a first-come first-serve basis from city hall, just a few blocks from the accessible beach entrance on Gower Street.

Paved trails offer access to viewpoints at a few beaches at Washington state's Olympic National Park, including Ruby Beach and Rialto Beach. At Rialto Beach, an accessible walkway is installed each summer that allows visitors to ascend a sand dune.

One of Maui's most accessible beaches is found at Kamaole, where there are four accessible parking spaces, and a beach wheelchair for navigating the sand, although a companion is required to assist with the chair. There is also an accessible outdoor shower.

The Big Island has at least 11 accessible beaches, according to local travel agency Hawaii Aloha Travel. And several beaches on the island of O'ahu, where Honolulu is located, offer beach wheelchairs that can navigate sand and water, as well as accessible walkways over the sand. The local government provides an updated map of which beaches on O'ahu have accessible walkways and mats.

Another unique water experience in Hawaii is the opportunity to swim with dolphins, with a handful of venues on a few different islands, including Dolphin Quest in Honolulu and on the Big Island, offering this to those with disabilities.

What's your favorite beach for accessibility? Have you ever used a beach wheelchair? Let us know in the comments section below!



You may be interested in:

I'm travelling to:

and I'd like to find:

google-site-verification: google1a6906840161d055.html