Travel Ideas
Accessible Possibilities
5 Top Tips for Mobility Scooter Travel
Whether you're going across town or around the globe, here are 5 top tips for traveling with your mobility scooter.
photo: Claire Szabo-Cassella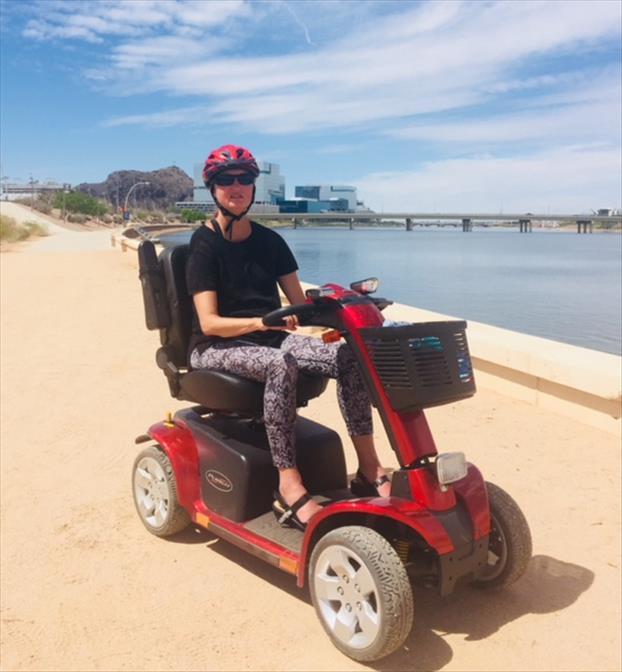 Photo: Claire Szabo-Cassella
Travel destinations want your business. From Airbnb to American Airlines to Arcadia National Park, most travel websites now include an accessibility link. Start there. You'll often be pleasantly surprised at the degree to which cities, parks, and businesses want to accommodate travelers with a scooter.

For instance, Zion National Park details the dimensional size and weight of scooters they can load on shuttle buses; airlines list special assistance categories, including traveling with a mobility device (more on that later); and many entertainment venues state ways in which they can best host their patrons utilizing mobility devices.

Most small to midsize scooters work perfectly for indoor venues such as theaters, casinos, and museums; and, they handle well on city sidewalks and paved park pathways. But if in doubt, check the Accessibility link to phone ahead and double-check. Doing so has paid off several times with my midsize scooter. A little research goes a long way in ensuring your adventure is as stress-free and successful as possible.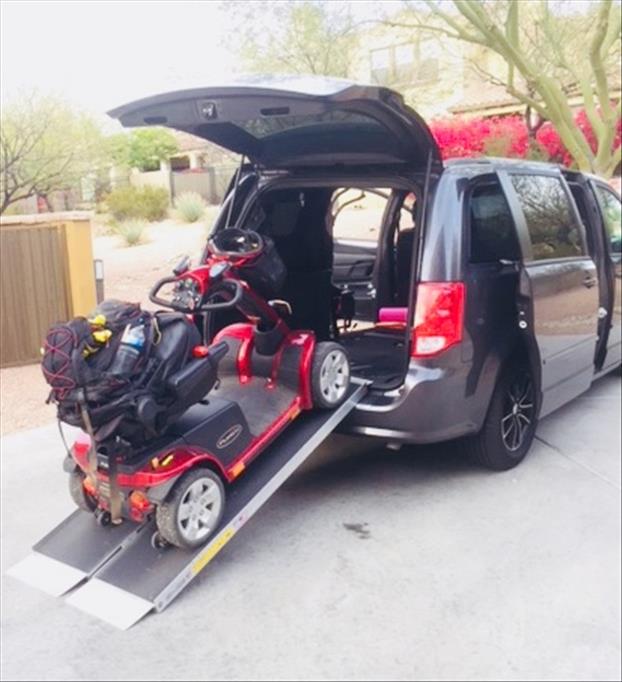 photo: Claire Szabo-Cassella
Medical equipment stores are a wonderful resource when it comes to choosing the best transportation accessories necessary for loading and unloading your scooter into a vehicle. There is a wide array of ramps, travel lifts, and backend basket attachments from which to choose. Having measured the height and width of your vehicle loading area will be helpful when shopping. As well as, once again, knowing the dimensional size and weight of your scooter model.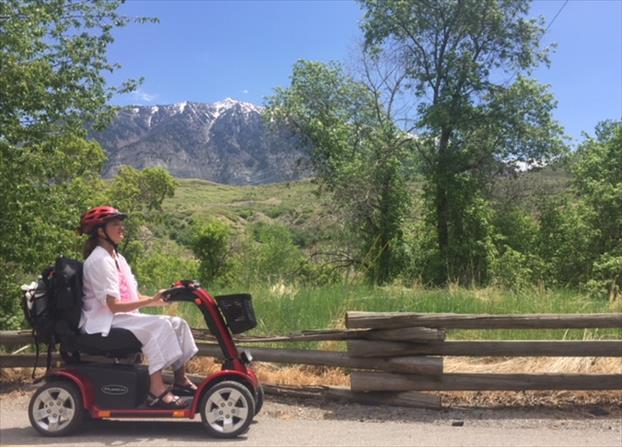 photo: Claire Szabo-Cassella
When traveling for consecutive days away from home, know where and when you can recharge your scooter for daily use. Most hotels are accommodating and will find you an electrical outlet. Not so with every home vacation rental. Check with the homeowner or leasing agent to make sure that there will be a suitable place to recharge your scooter and if they're going to charge more for electrical.

When traveling abroad, purchase a power adapter before you leave.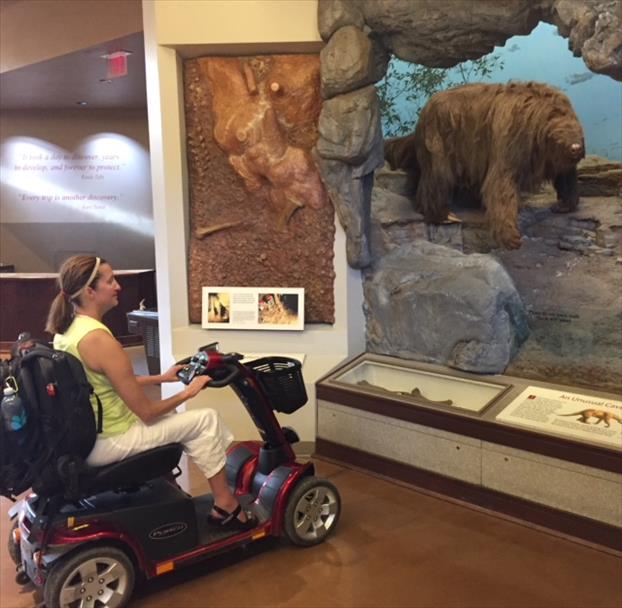 Photo: Claire Szabo-Cassella
When taking your scooter on a lengthy road trip involving overnight stays and using a ramp, pack smartly. Remember that most everything that goes in the vehicle will likely have to come out of the vehicle in order to access your scooter.
When traveling by plane, you can often drive your unit right to the door of the airplane and they will store it in the cargo area. When you get off, it will be there waiting for you. Kelli Henley of Shamrock Medical in Portland, Oregon does not recommend checking mobility equipment at the ticket counter because of the high likelihood of it being broken when you get to your destination. Wherever you choose to check-in your scooter, Henley advises, "Look over your unit when you arrive and check for any damage. Report it right away. They will fix it, no problem, but you have to let them know immediately." Report any damage immediately to a baggage claim agent.
Power folding scooters are another great travel option. Some models are operable in less than a minute.
You also have the option of leaving your scooter at home if one can be rented at your destination. While traveling in Las Vegas, I met many travelers on rented scooters taking in the sights.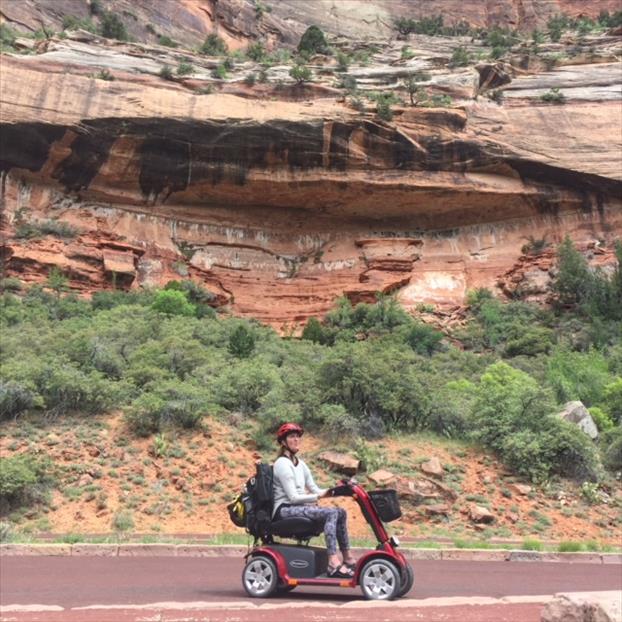 Photo: Claire Szabo-Cassella

Tap into the community of scooter travelers around the world via the Internet and get your wheels spinning. Accessible travel websites such as accessibleGO offer an ever-increasing list of reviews and recommendations for the most desirable and accessible destinations. Given so many wonderful options for fun scootering, the most challenging part of journeying with your mobility scooter may only be deciding where to go first.

Claire Szabo-Cassella is the founder of Red Scooter Diaries. She is an avid explorer of the world of accessible travel and dedicated to access advocacy.

You may be interested in:

I'm travelling to:

and I'd like to find:

google-site-verification: google1a6906840161d055.html