Travel Ideas
Accessible Possibilities
If you thought the Emerald City was only found somewhere over the rainbow, think again. Seattle is a real-life Emerald City that is well worth navigating hilly roads, frequent rain showers and overcast skies. In fact, the wet weather is what makes this Northwest city so green (hence the nickname). So, don't forget your waterproofs, figure out how to avoid the worst of the hills (see below), click your heels and remember, there's no place like Seattle.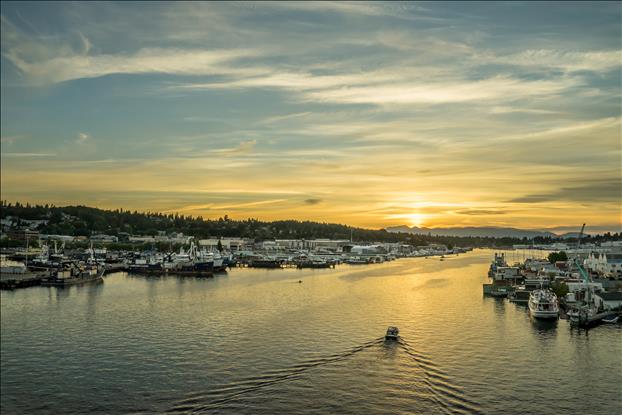 A beautiful Pacific Northwest sunset over the marinas of Fisherman's Terminal. | Visit Seattle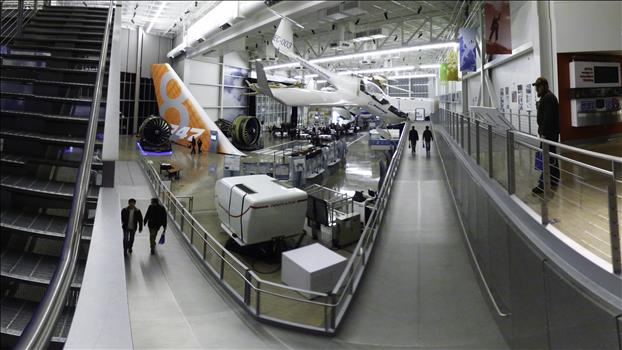 Future of Flight | Photo: Jeremy Dwyer-Lindgren/ Future of Flight Aviation Center and Boeing Tour
Seattle may be all laid back and hipster, but the Seattle area is also home to a number of big corporations – including aerospace engineering behemoth Boeing. Don't miss the chance to get a behind-the-scenes look at some of the coolest technology out there on the Future of Flight Aviation Center & Boeing Tour – which prides itself on being the only public tour of a commercial jet assembly plant in North America.

Visitors can explore the interactive exhibits and displays in the 28,000-square-foot Aviation Center Gallery before taking a 90-minute tour of the Boeing plant – which includes seeing 747s, 777s or 787 Dreamliners being assembled on the Everett production line.

The center is an accessible facility. A limited number of wheelchairs are available on a first-come, first-served basis from the ticket desk in the lobby (photo ID required).

All restrooms are wheelchair accessible.

Wheelchair users can be accommodated with advance notice on the 10:30 a.m. or 2:00 p.m. Boeing Tours (visit the center beforehand). A limit of two wheelchairs per tour are allowed along with two family members or companions. Call 1-800-464-1476 to reserve a spot.

Visitors who have difficulty walking, but do not use a wheelchair should also contact the center in advance.

The tour involves walking down and up two steep flights of stairs at each end of the factory, walking through two large tunnels and riding two freight elevators to balconies overlooking the Boeing factory floor.

Service animals are allowed in all public areas of the Future of Flight Aviation Center and on the Boeing Tour.

American sign language is available for all Boeing tours. Contact the call center at 1-800-464-1476 at least two weeks in advance.

Find out more here.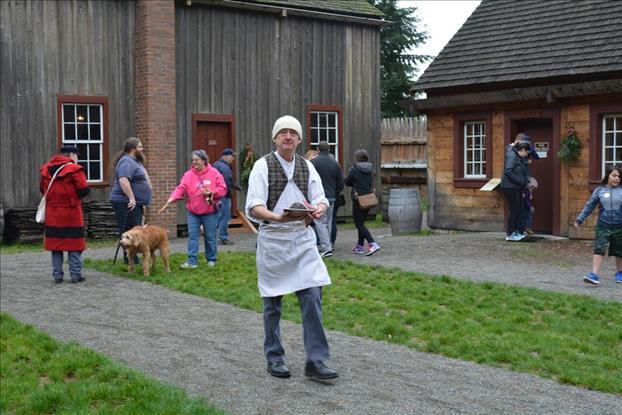 Photo: Fort Nisqually Living History Museum
For a sense of what life was like in days gone by, visit the Fort Nisqually Living History Museum. The fort, located just a short drive away in neighboring Tacoma, was the first European settlement on the Puget Sound and served as a Hudson Bay Company trading and farming post. Experience life in the 1850s with costumed guides and volunteers recreating everyday tasks from the olden days.

Much of the site is accessible, however, some buildings can only be viewed from outside. Where possible, accessible routes, turnarounds and ramps into the buildings are provided. There is a 36-inch-wide accessible route through the museum store. The outdoor path is 60 inches wide and is a combination of concrete landings and compounded wood chips.

Most information, exhibit signage, viewing stations and customer materials are within the 15-48" reach range and 32-60 inch visibility height. Staff is available to provide assistance with out-of-reach items in the museum store.

There are two accessible public restrooms in the great room inside the fort.

Information is available in alternative formats. A cell-phone audio tour is also available. Ask staff for details.

There are three designated parking stalls on site. The route to entry is a combination of pavement and compounded wood chips.

Find out more here.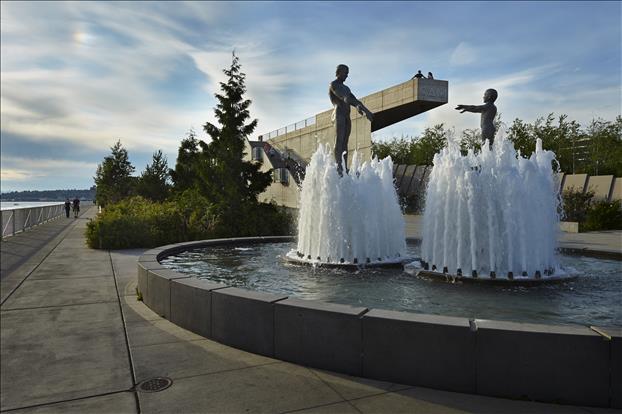 Olympic Sculpture Park | Seattle Art Museum/Photo: Benjamin Benschneider
If the weather's looking good (and really, this is Seattle, so it'll probably be overcast), head over to the Olympic Sculpture Park. This nine-acre park, located on the waterfront, is part of the Seattle Art Museum, and combines incredible views with incredible art. The park has four distinct landscapes that are designed to reflect the native ecosystems of the Pacific Northwest and which provide the perfect backdrop for the permanent and changing sculptures scattered around the garden.

The park is wheelchair accessible. Wheelchairs are available at the front desk in the Olympic Sculpture Park Pavilion (photo ID required).

Sign language is available for all public tours upon request with two weeks notice. Email or call 206-654-3135 or 206-654-3137 (TTY).

The Art Beyond Sight program provides regular tours of the museum's collection to visitors with low or no vision. Private tours are also available upon request. For more information, email 206-654-3123.

There is a three-minute drop-off zone located on southbound Western Avenue before the Broad Street intersection.
Visitors can park in any available metered parking space in the area. There are also three paid accessible parking spots in the Olympic Sculpture Park garage located on Broad Street.

Find out more here.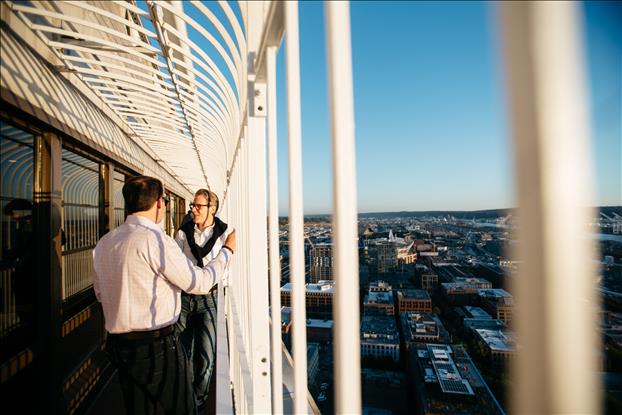 Photo: Smith Tower
With the Seattle Wheel and the Space Needle, you'd think other high rises couldn't compete, but that's before a visit to Smith Tower. A ticket to the new Smith Tower visitor experience allows you to a ride up to the Observatory on the 35th floor – where you can enjoy 360-degree views of the city – but it also grants you entrance to Smith Tower Temperance café and bar, a prohibition-era experience that melds an Asian-influence and Prohibition-inspired menu for a fantastic way to start the night.

Smith Tower is wheelchair accessible.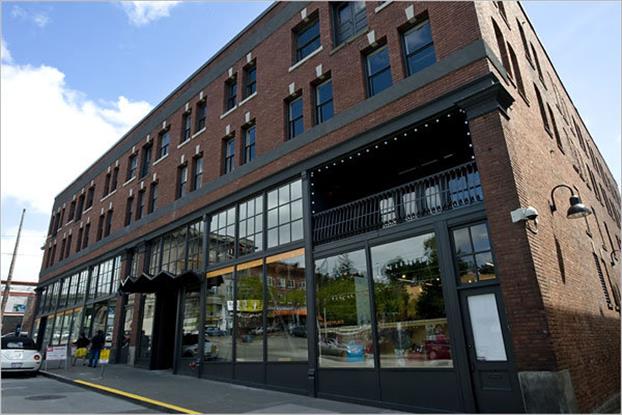 Photo: Wing Luke Museum
Learn about another part of Seattle's history at the Wing Luke Museum of the Asian Pacific American Experience. The museum preserves the stories of immigrants from Asia, as well as telling the story of life once they arrived in the country. The museum offers changing exhibits and walking tours, such as Bruce Lee's Chinatown and a Bitter & Sweet Tour, which is the official tour of the bestselling novel "Hotel on the Corner of Bitter and Sweet).

The museum and galleries are wheelchair accessible.

Email or call the museum at 206-623-5124 ext. 202 for accessibility information regarding the guided tours.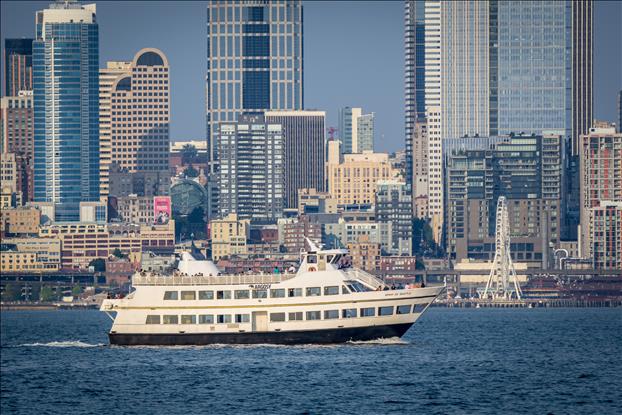 An Argosy tour boat cruises through Elliot Bay with the downtown Seattle Skyline as a backdrop. | Visit Seattle
Get out on the water of Elliott Bay and see Seattle from a different perspective with a one-hour narrated tour Sightseeing Cruise. Explore the skyline, learn about the city's history and enjoy the pulchritudinous Olympic and Cascade Mountain ranges. The boat cruises along the shoreline of Elliott Bay and as well as the city views will get you up close and personal with cruise ships, container ships and even harbor wildlife. The boats have a full-service bar, so there's no need to worry about bringing refreshments with you.

Argosy Cruises has a number of different boats with varying levels of wheelchair accessibility. The Spirit of Seattle or Lady Mary have accessible restrooms and accessibility for electric scooters.

Call 206-623-1445 in advance to discuss accessibility on the different tours or find out more here.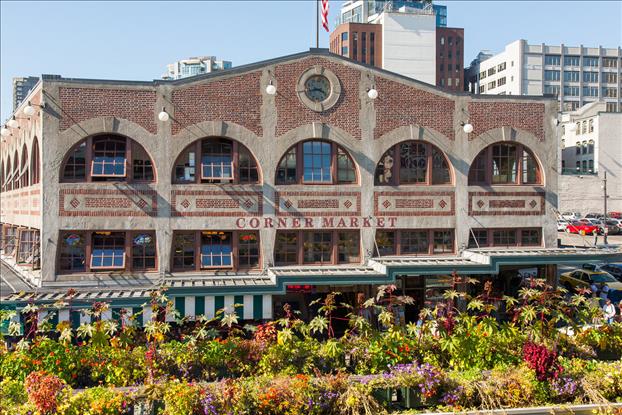 Pike's Place Market is one of the nation's oldest continuously operated Farmer's Markets. | Visit Seattle
Stop for a snack, a late lunch or even an early supper at Pike Place Market, which has been feeding Seattle since 1907. You can amble your way through, tasting, sampling and indulging as you go, or take a self-guided tour to make sure you hit up all the right spots (one of the top draws of the market is the original Starbucks).

Tours include a Market Directory and a Market Day Planner. With more than 200 unique shops and over 80 restaurants, you'll be spoiled for choice in what to eat, drink and taste first, so make sure you arrive hungry (you'll be leaving anything but!).

Most buildings and shops in the nine-acre historic district are wheelchair accessible. Elevator access is available from the waterfront, Western Ave and parking garage.

Service animals are allowed inside the market.
Enjoy Seattle's "Most Epic Movie Experience" at the Cinerama in the vibrant Belltown neighborhood. As well as a regular screen, the restored mid-century theater has a large Cinerama screen that puts your local multiplex to shame (it's 97 foot and curved, in case you want to geek out). Even the concession stand is fabulous, with chocolate popcorn, Full Tilt ice cream, craft beer, wine and cider as well as tea and coffee. Don't forget to check out the original costumes on display – they've got everything from "Star Wars," "Star Trek" and Blade Runner here.

The cinema prides itself as being one of the most accessible movie houses in the country. As well as being wheelchair accessible, it offers closed captioning from any seat, assistive listening devices and audio narration devices.
Seattle is served by Seattle-Tacoma International Airport (SEA).

Each terminal features ADA compliant restroom facilities. Some terminals can only be accessed via an automated tram/train, which is fully accessible.

The A, B and C terminals are quite large, which may cause difficulty for those who have trouble walking long distances.

Most restrooms have larger stalls, grab bars and lower accessories, such as sinks, paper towel dispensers and mirrors.

Large, private restrooms are available to anyone who require assistance. These restrooms are located on both the Ticketing and Baggage Claim levels of the Main Terminal as well as on concourses A, B, C, and D, and in the North and South Satellite.

Drinking fountains have been lowered.

All elevators in the main terminal, satellites and parking garage have braille and raised numerals inside. Additionally, all elevators have lowered control panels, floor-passing gongs, raised call buttons, braille on the doorjambs and directional arrows in the elevator lobbies.

There are two "pet potty" areas outside the Main Terminal. They are located outside baggage claim. The north area is outside of door #26, just past Carousel 16. It is a small sandy area to the left under the stairs. There is a large grassy area at the end of the parking lot on the south end (outside door #00) that is also equipped with bags for cleanup.

There is a pet relief area after security in Concourse B of the Main Terminal for assistance dogs.

Find out more here.

Seattle Yellow Cab operates to and from SEA. Download the App for easy booking.

Seattle's public transportation system is accessible.

The Link Light Rail trains run from Seattle/Tacoma International Airport to the University of Washington, making 13 stops along the way. There are spaces for wheelchairs and designated priority seating.

All Link stations are accessible, with elevators providing access from the street to underground.

The city bus service is also fully accessible. Buses are equipped with kneeling capabilities, as well as wheelchair ramps or a wheelchair lift. Once on-board the bus, there are wheelchair securement areas with tie downs/straps.
The lift/ramp cannot be used at all stops. Use the trip planner to determine if the stop is accessible in advance.

The Streetcar is fully accessible with low floors and high platforms for a minimal gap between platform and streetcar. It also has ramps that automatically deploy once a button is pressed inside or outside the car. It also features audio and digital display stop announcements.
The streetcar runs every 10-15 minutes.

If you want to travel further afield, the public and private water taxis and ferries that operate to and from Seattle and the nearby islands in Puget Sound are wheelchair accessible.
Seattle is very hilly, but many of the worst offenders can be avoided with forward planning. Travel in all directions is fairly easy north of University Street, however, south of University Street, the streets and sidewalks become steep and hilly.

While most of the downtown sidewalks have curb ramps at the corners, they are less common in Pioneer Square. Navigating this historic district can be more challenging due to a variety of paving materials.

Download the city's accessibility map here.
There is also an interactive accessibility map for Seattle, which is designed to "enable safe, accessible trip planning on pedestrian ways for people with limited mobility." It includes street grade inclines, curb ramps, construction information, curb cuts and more. AccessMap can be found here.
Base yourself at the Edgewater Hotel, which allows you to get as close to the water as possible, without getting wet (early advertising slogans promised that you could fish from your room). The hotel has a cool rock 'n' roll provenance, with legendary guests including The Beatles, KISS, Blondie and the Rolling Stones. Located just a short walk to Pike Place Market, the Space Needle and Olympic Sculpture Park makes this hotel top of the charts for travelers to Seattle (and we love the little rubber ducky that comes as standard in each bathroom).

The hotel has 10 specially designed accessible rooms. These rooms include a roll-in shower or shower/tub combo, grab bars and an accessible balcony.

Accessible restrooms are located on the first and third floors of the hotel.

Find out more here.