Travel Ideas
Accessible Possibilities
San Diego has emerged in recent years as a top destination for tourism, as it boasts some of the country's most luxurious vacation and golf resorts, as well as its world-famous zoo and safari park. While enjoying those touristy parts of this coastal area, there are also plenty of places to soak up history and enjoy spectacular nature. As more tourists head for San Diego, the area's food and nightlife scene has also become more upscale, with a rising number of world-class craft breweries and trendy rooftop bars, where you can cap off your evening by looking out over the San Diego Bay, a natural Pacific harbor that drew the first settlers to this area thousands of years ago.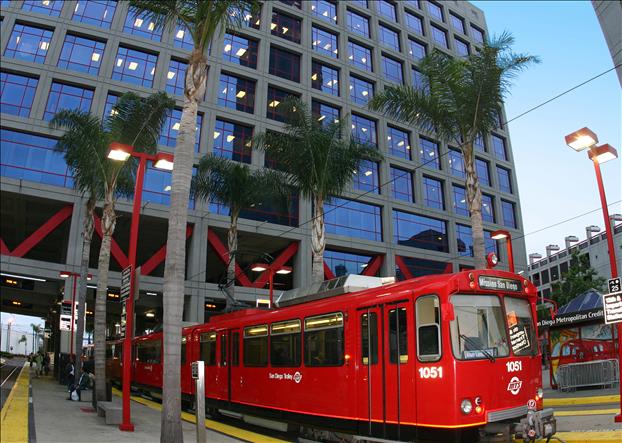 Downtown Trolley 12th St. Station | Courtesy Joanne DiBona, SanDiego.org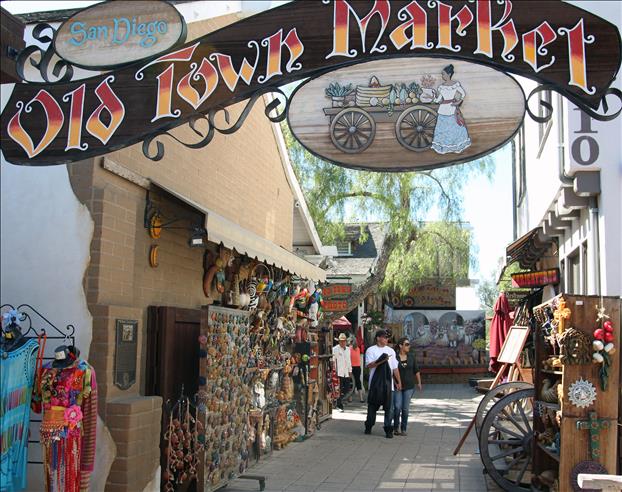 Old Town Market | Courtesy SanDiego.org
Head out to explore
San Diego's Old Town
, starting with the San Diego State Historic Park, where you can check out Casa de Estudillo, an adobe hacienda built in 1825 by settlers from Mexico, who were responsible for establishing much of San Diego. The exterior of Casa de Estudillo and its gardens are
wheelchair
accessible.
You can also explore old courthouses, town squares, chapels, and theaters, which include some accessible areas, and get to know the story of San Diego, as it went from rule by American Indians, to Mexico, to finally becoming part of the United States. Be sure to check out the
Whaley House
, built by an explorer who came to California during the Gold Rush. The house, whose first floor is wheelchair accessible, brims with ghost tales and is said to be the most haunted property in the country.
Take a trolley tour
, which you can hop and off of, to explore this whole area. The trolley can also accommodate wheelchairs, but If you use a wheelchair, you need to call 24 hours in advance to arrange for an
accessible tour
.
Eat lunch at
Cafe Coyote
, said to be the best among the dozens of Mexican restaurants in the Old Town. It is wheelchair accessible, and offers 100 different kinds of tequila as well as delicious food in a festive atmosphere, where diners can watch tortillas being made by hand, dance to the mariachi music and enjoy colorfully-painted wall murals.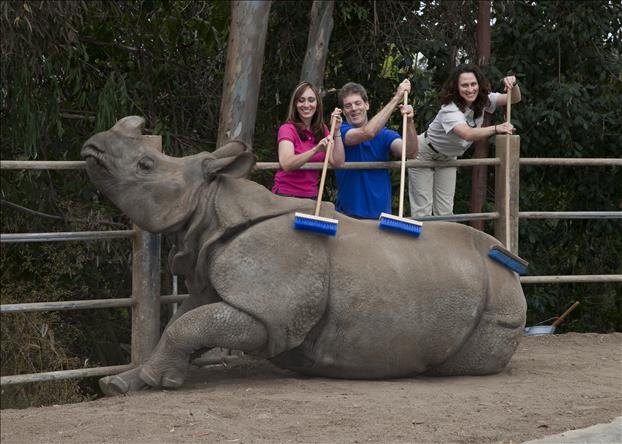 Couple and Trainer Brushing Rhino | Courtesy San Diego Zoo
Spend the afternoon at the
San Diego Zoo
, one of the most popular attractions in the sprawling Balboa Park area. What started as a project to take care of a colony of koala bears abandoned in San Diego following the 1915 Panama-California Exposition, has now evolved into one of the most advanced zoos in the country. One of the pioneers for building so-called cageless exhibits, much of the zoo feels lush and natural.
Start off with the 35-minute guided bus tour to get an overview of the zoo's layout and more than 3,500 animals. Then make sure to visit the giant panda bears, koalas, and elephant area, where you can watch the keepers tending the animals and also learn more about this species through interactive exhibits such as mazes, fossil digs and puzzles. The zoo offers ample assistance for those with
disabilities
, making almost all of it, including the bus tour, easily accessible to those in wheelchairs, or with other needs, such as visual or hearing disabilities.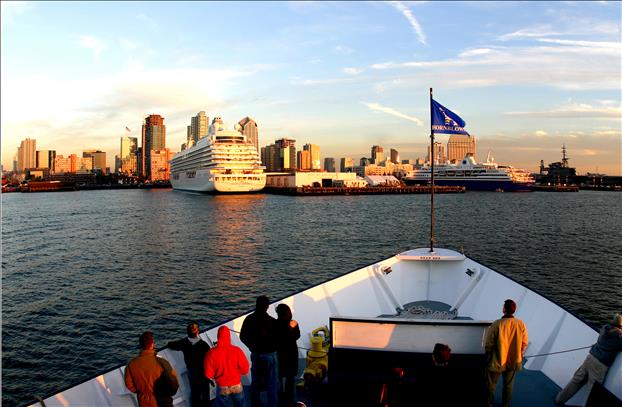 Downtown Tourists Hornblower Cruise | Courtesy Joanne DiBona, SanDiego.org
Board one of the
Hornblower Cruises
boats for a dinner cruise around the bay, where you can enjoy gentle breezes and see the stars as well as the sparkling lights of the city's skyline. Many, but not all, of the cruises are wheelchair accessible; call 888-467-6256 to arrange for an accessible boat and cruise.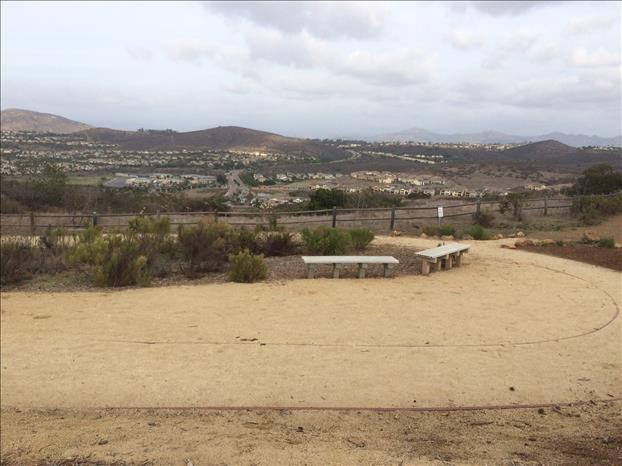 Jas Arnold Trail for All People at Black Mountain Open Space Park | Photo by Byron Shoemaker
To experience some of the beautiful nature that sits inland from the glimmering coastal city lights, head out to
Black Mountain Open Space Park
, about a 20-minute drive from downtown San Diego. The new Jas Arnold Trail for All People caters especially to those with disabilities. The loop trail is paved and flat, and includes several benches and shaded structures to stop at for rest along the way. Signs, which include braille, describe the surrounding nature, which includes sage-covered hills, ridges and canyons.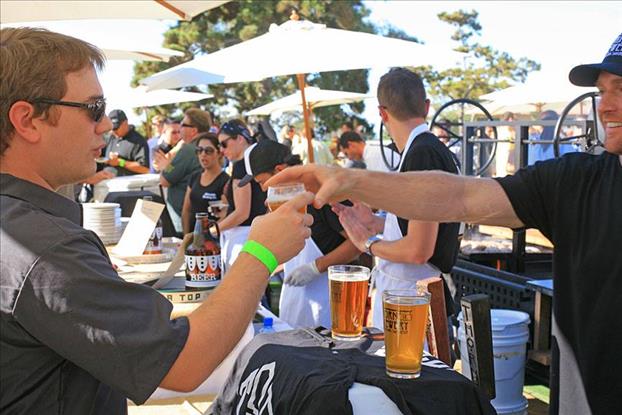 Thorn St. Brewing | Courtesy SanDiego.org
On your way back into downtown San Diego, drive through Miramar to enjoy lunch and explore the city's craft beer scene. With more than 30 breweries, San Diego's craft beer scene is one of the most lively in the country, producing many award-winning and sought-after brews.
Start at the recently-opened and wheelchair accessible
Legacy Brewing Tap and Kitchen
, where you can order a beef or lamb burger, chicken wings or a crispy eggplant sandwich to go with your beer. At
Mike Hess Brewing
, whose Rye IPA took the gold medal at the 2014 World Beer Cup, you can sample a variety of beers in the tasting room, which is wheelchair accessible, and also friendly to families and pets. At
AleSmith
, an artisanal microbrewery, which is also wheelchair accessible and attracts beer collectors from all over the world, you can enjoy British- and Belgian inspired beers in the tasting room, within view of the brewing equipment.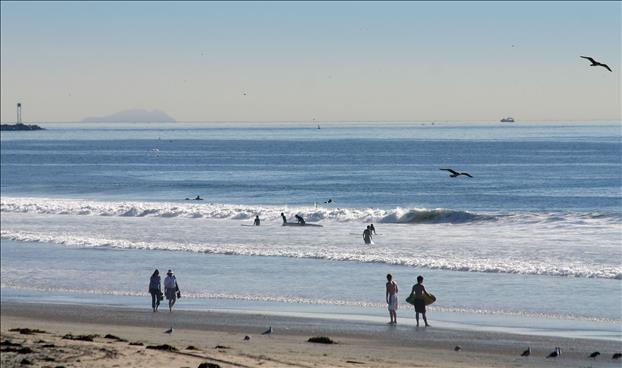 Silver Strand Coronado Beach | Courtesy SanDiego.org
Grab a towel and plan to spend a couple of hours relaxing on
Coronado Central Beach
, where the sand sparkles all year around due to the presence of the mineral mica. The Travel Channel consistently ranks this as one of the best beaches in the United States. You can look out at the gentle waves crashing onto the sand, while a backdrop of mansions and fine homes line Ocean Boulevard behind you. The beach has both power and
manual wheelchairs
that can navigate the sand and the water.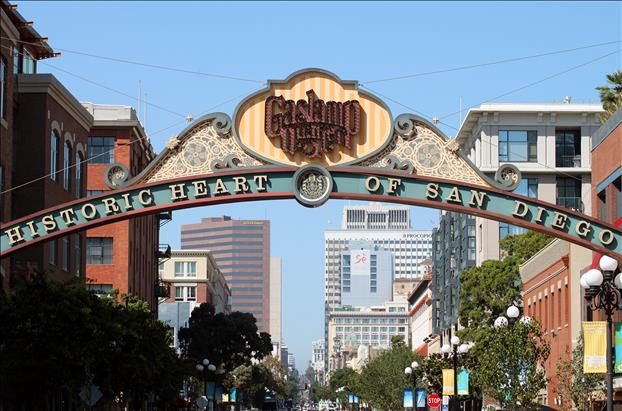 Downtown Gaslamp 5th Street | Courtesy Joanne DiBona, SanDiego.org

For dinner, try a restaurant in the Gaslamp Quarter, a 16-block historical area of San Diego mainly constructed in the Victorian era, to soak up the revival going on in this part of town. Most of the buildings are still in use, and today house restaurants, hotels and shops. After dinner check out one of the many rooftop bars that have become popular in this quarter. At the wheelchair accessible

Altitude Sky Lounge

, atop the 22-story San Diego Marriott, you can sip unique cocktails while sitting near an open fire pit, taking in views of the city and the sea.

I'm travelling to:

and I'd like to find:

google-site-verification: google1a6906840161d055.html