Travel Ideas
Accessible Possibilities
There's nowhere in the world quite like New Orleans. You can't come to the city without exploring the French Quarter, taking in the nightlife of Bourbon Street and the surroundings or visiting a cemetery or two. But there's plenty more to see and do in NOLA both by day and night. Find out about the city's history, taste a culinary mainstay and find out why a merry-go-round has been thrilling locals – and visitors – for almost 70 years.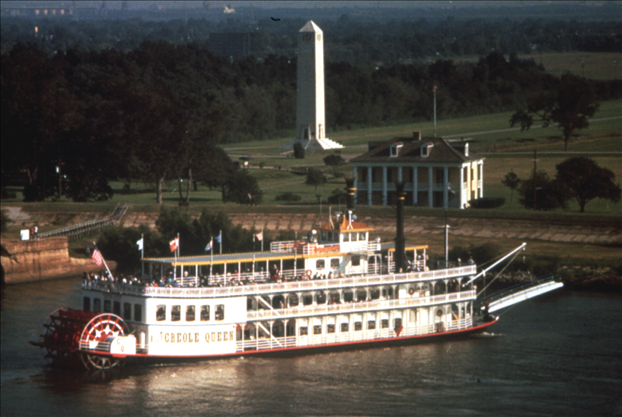 Creole Queen Steamboat in Front of Chalmette Battlefield. | NewOrleansOnline.com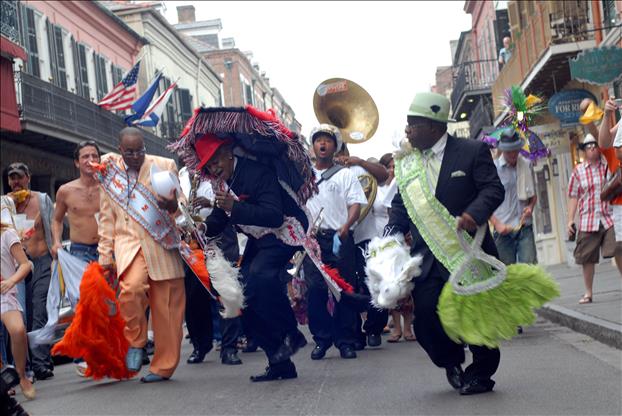 A French Quarter Second Line | NewOrleansOnline.com
Learn more about New Orleans and the local area with a stop the Jean Lafitte French Quarter Visitor Center. Discover the history and traditions of the city and the lower Mississippi River delta. The center offers a daily ranger-guided riverfront history walk on Tuesdays through Saturdays. The free walks tell the story of how New Orleans grew from its humble beginnings in 1718 to one of the country's most important ports. There are 25 tickets available for each day's tour on a first-come, first-served basis so it's worth arriving early.

The walks take place in wheelchair accessible areas. However, crossing the railroad and streetcar tracks between the visitor center and the levee may be difficult without assistance.

The center is wheelchair accessible. It includes audio exhibits of local musical styles and special New Orleans dialects and phrases.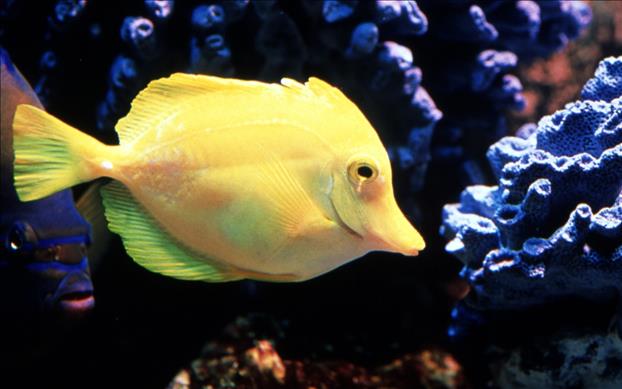 Fish at Audubon Aquarium of the Americas. | Photo: David Bull/NewOrleansOnline.com
New Orleans has a dazzling array of natural attractions, including the Audubon Aquarium, which is located on the Mississippi River right next to the French Quarter. There's a walk-through tunnel that takes you under a Caribbean reef, a 400,000-gallon Gulf of Mexico exhibit that contains sharks and tarpon. and rays, a Mississippi River gallery that highlights many of the river's inhabitants and the interactive Geaux Fish! exhibit, which details Louisiana's fishing industry and highlights its importance to the region. The aquarium serves as the coordinator of the Louisiana Marine Mammal and Sea Turtle Rescue Program, so look out for sea turtles as you make your way throughout the site.

The aquarium is wheelchair accessible. Courtesy wheelchairs are available on a first-come, first-served basis.

Service animals cannot enter Parakeet Pointe.
Find out more here.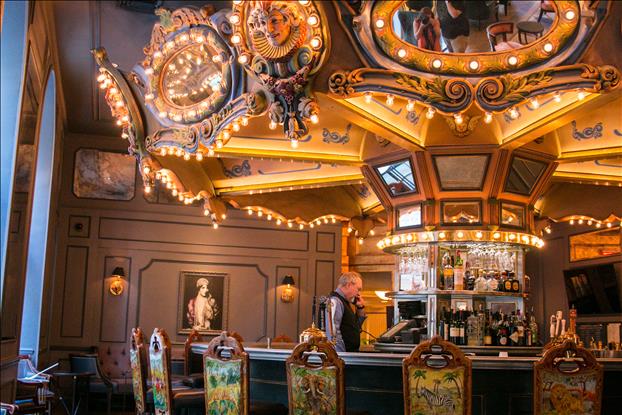 So, there's this bar that has a working carousel right in the middle of it, and well, you really have to see it to believe it. If you come in the afternoon rather than at night, there's a better chance of getting a good view – and a good seat. The Carousel Bar and Lounge is located in the famed Hotel Monteleone in the French Quarter and is the city's only revolving bar (there's also a stationary bar and additional seating). Sit down, have a drink (Sazerac is a specialty), listen to the music (there's often live music in the early evening) and watch the people promenading along Royal Street.

Just in case you are wondering, the bar has been turning since 1949 and it turns once every 15 minutes.

The bar has an accessible entrance and wheelchair-accessible restroom.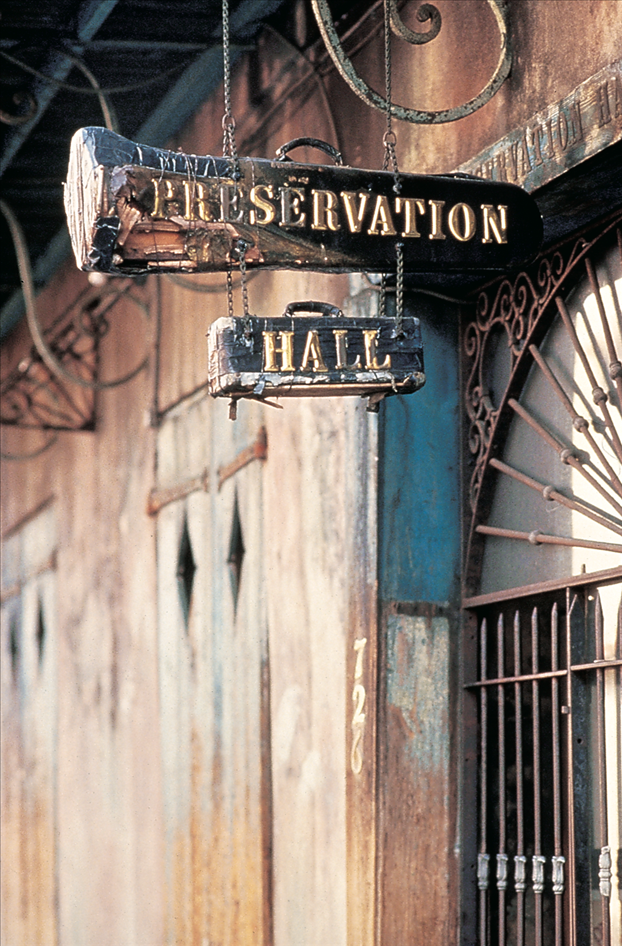 Preservation Hall in the French Quarter | Photo: GNOTCC, Michael Terranova/NewOrleansOnline.com
Make sure you get your fill of jazz with a visit to Preservation Hall, a mainstay of NOLA since 1961. The venue presents acoustic New Orleans Jazz concerts almost every night of the year. Such is the demand to hear this raw, authentic music that there are three 45-minute performances each night (the last show usually starts at 10:15 p.m.) If you reserve a seat in advance, there's no need to wait in line (which tend to form about an hour ahead of each show). Tickets are good for one performance only.

Preservation Hall is accessible, but email or call 504-522-2841 in advance to make sure there are seats available and to discuss any special requirements.
Cafe Du Monde Beignets and coffee. | Photo: David Richmond /NewOrleansOnline.com
Start the day with a beignet and coffee at the famed Café Du Monde at the original location in the French Market. It's just what you do when in NOLA (if a craving hits you later in the day, go with it – the cafe is open 24/7). If you don't know what to order, don't worry, there's not much choice. The menu consists of coffee and chicory, white and chocolate milk, fresh squeezed orange juice and soft drinks. And of course, the stars of the show, the beignets – French-style doughnuts generously covered (read absolutely swimming) in powdered sugar. They are served in orders of three, which is about as much of a sugar hit as anyone can stand in one go.

The cafe is wheelchair accessible, with no steps or barriers to entry. The lines can be long on weekends, so be prepared to wait. We promise it's worth it.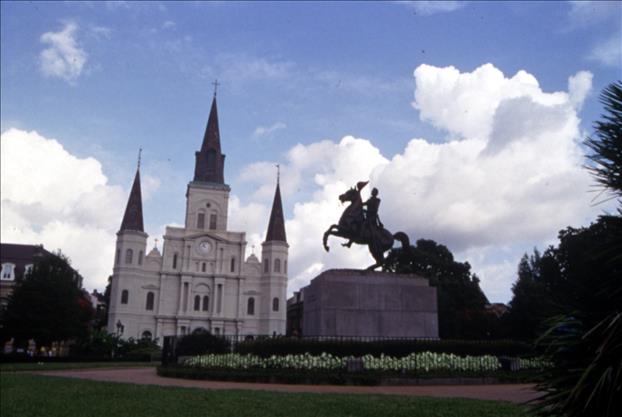 St. Louis Cathedral & Monument of Andrew Jackson. | Photo: David Richmond/NewOrleansOnline.com
Maybe you have something to confess (come on, this is New Orleans after all, we understand) or maybe you just want to see one of the city's most notable historic landmarks (it's the oldest Catholic cathedral in continuous use in the U.S.). No matter your reason, a visit to the St. Louis Cathedral (also known as the Cathedral Basilica of St. Louis) is high on most people's lists. Self-guided brochures are available in the entrance for a $1.00 donation and, depending on timing, you could get luck and get an impromptu tour from one of the cathedral's volunteer docents. Must-sees include the Rococo-style gilded alter and stained glass windows.

Daily Mass takes place at 12.05 p.m.

The cathedral is wheelchair accessible.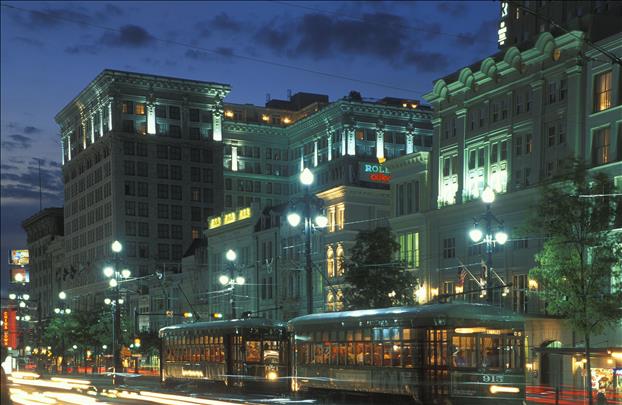 Streetcars Roll Down Canal Street | Photo: Alex Demyan / NewOrleansOnline.com
London has its double-decker buses, New York has its subway and New Orleans has its streetcars. As well as being a way for local to navigate the city, the streetcars offer tourists a great opportunity to climb aboard, sit back and see New Orleans from a different perspective. There are five routes to choose from with lines running along Canal Street, down the Riverfront and up to City Park. While single rides are a cheap way of getting around, if you want to explore all the lines, buy a Jazzy Pass, which gives 1, 3 or 31 days unlimited rides (the passes are also good for all of New Orleans buses). Just remember, not every streetcar is named Desire.

The streetcar lines are all wheelchair accessible, with the exception of the historic green streetcars that travel on the St. Charles Avenue line.

Find out more here.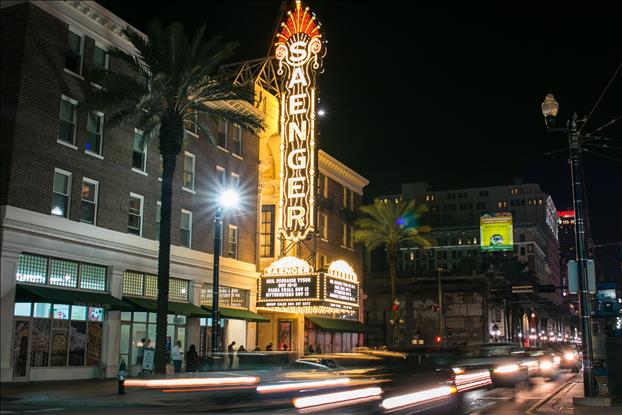 Saenger Theatre | Photo: Rebecca Ratliff / NewOrleansOnline.com

New Orleans may be known for the spectacles that takes place on its streets on a daily basis, but the city also has a top-notch theater with a long and distinguished history. The Saenger Theatre on Canal Street was built in 1927 for the "unheard of" price of $2.5 million. The original theater was destroyed by Hurricane Katrina and it wasn't until 2013 that the curtains went up on a restored incarnation of the original 1927 theater, albeit a more technologically advanced one with a somewhat higher price tag than the original.

Accessible seats may be purchased by phone. Call the box office at 504-287-0351 or Ticketmaster at 800-745-3000.

Assistive listening devices are available (photo ID required).

Open captioning is available for select performances. Call the box office to find out more or to reserve seats with optimal views of the stage and captions.

Find out more here.

New Orleans is served by Louis Armstrong New Orleans International Airport. The entire airport is barrier free.

There is a Service Animal Relief Area in front of the west-side of the Short Term Parking Garage. Exit through Baggage Claim near Bag Belts 12-14.

Visual paging is available throughout the airport in conjunction with the flight information displays.

Wheelchair-accessible vehicles can be ordered from the airport by calling 504-522-3500 or booking online. Taxis can also be called at 866-596-2699 after you arrive.

MoveNOLA Taxi offers wheelchair-accessible cabs. Call 504-533-000 to book.

The New Orleans Regional Transport Authority (RTA) buses are wheelchair accessible. Buses either "kneel" or tilt themselves closer to the curb and have fold-out ramps. There are wheelchair securement areas on board, as well as priority seating areas. In addition, there are automatic announcements for bus stops and transfer points.

The red streetcars that travel the Canal Street, Loyola UPT and Riverfront lines are accessible. Features include lifts (located the middle door), areas where wheelchairs can be secured and priority seating areas.

The green streetcars that run down the St. Charles Avenue line are not accessible. The following bus lines travel in the same general direction as the streetcar: Magazine #11, Freret #15 and Leonidas #32.

Some French Quarter streets can be hard to navigate in a wheelchair, so it is advisable to travel with a friend who can assist you.

Find out more here.

Base yourself at the new three-star Aloft New Orleans Downtown. The hotel is located a couple of blocks from Bourbon Street and the French Quarter and near three streetcar lines, making exploring a breeze. Hit up the W Xyz bar before heading out into the city and stock up on snacks at Re:fuel by Aloft. There's an 11th floor outdoor splash pool to help you cool off at the height of a sweaty Louisiana summer and live entertainment to get you in the New Orleans party mood. Rooms boasts 42" LCD TVs, a fridge, coffee maker and free Internet.

Mobility accessible features include roll-showers or accessible tubs with grab bars and portable tub seats.

Hearing-accessible features include doorbell notification devices, portable communications kits containing visual alarms and notification devices, TTY and TVs with closed captioning.

The hotel's swimming pool, business center and fitness center are all accessible.

I'm travelling to:

and I'd like to find:

google-site-verification: google1a6906840161d055.html