Travel Ideas
Accessible Possibilities
We were going to write a list of all the songs and albums recorded in Nashville, but there's just too many to list. Anyone who's anyone has put down some tracks in the city that can't stop singing, including Elvis ("Heartbreak Hotel"), Bob Dylan "Blonde on Blonde") Jimmy Buffet ("License to Chill") and Taylor Swift ("Love Story"). But Nashville is more than just a music center. It's the home of Maxwell House Coffee, the Goo Goo Cluster (make sure you try it) and can also claim a president or two. So, while there's music attractions aplenty, make sure you spend some time visiting some of Nashville's other high notes.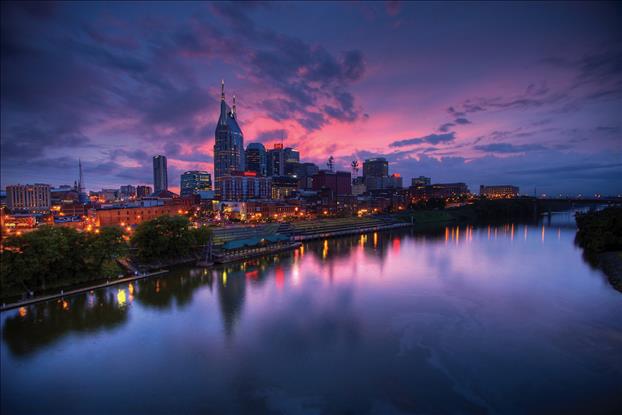 Nashville skyline | Courtesy of Nashville Convention and Visitors Corporation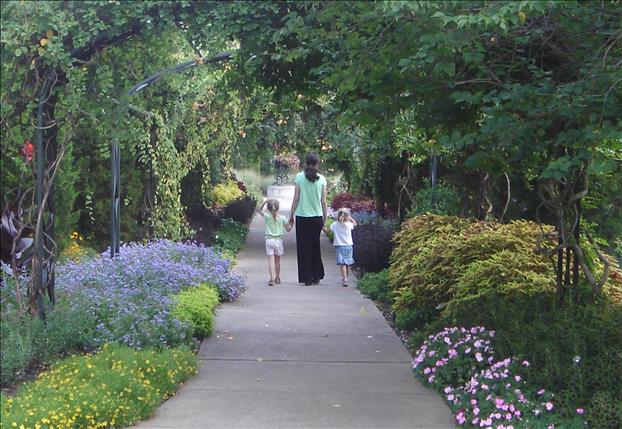 Cheekwood Botanical Garden & Museum of Art | Courtesy of Nashville Convention and Visitors Corporation
Enjoy art and beautiful gardens and art at Cheekwood, a 55-acre botanical garden and museum set on the historic Cheek estate, just outside of Nashville. Take refuge and recharge yourself in the Shomu-en Japanese Garden, feast your eyes on the dramatic hues in the Robertson Ellis Color Garden or delight all your senses as you take in the sights, tastes and smells in the Herb Study Garden. Finish off your visit with some Southern-style fare in the Pineapple Room Restaurant.

Courtesy wheelchairs are available on a first-come, first-served basis. However, due to its age and history, not all of the Cheekwood property is wheelchair accessible. Pick up an accessibility map from Visitor Services to plan your trip. There is a shuttle that runs from 10:00 am until 2:00 p.m. to assist those who cannot walk long distances.

Find out more here.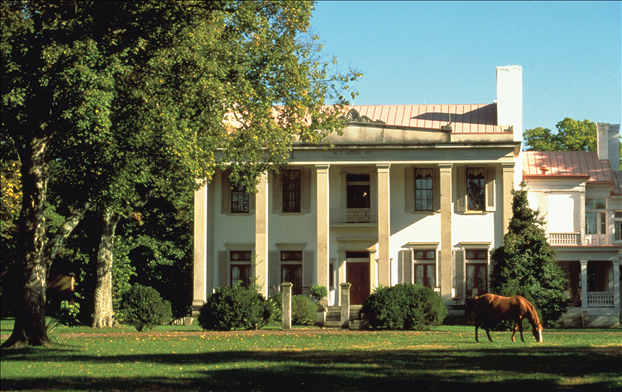 Belle Meade Plantation | Courtesy of Nashville Convention and Visitors Corporation
No visit to the south would be complete without a trip to at least one plantation. The
Belle Meade Plantation
was once an important thoroughbred horse breeding and boarding farm. It played host to a bevy of important guests, including President and Mrs. Grover Cleveland, Robert Todd Lincoln and Generals Grant, Sherman and Hancock. Modern-day visitors can enjoy a tour led by a costumed guide through the Greek-Revival mansion, which was commissioned in 1845, as well as to many other historic buildings on the ground that tell the sometimes complicated story of this place.
All buildings on the site are wheelchair accessible, with the exception of the Slave Cabin. The first floor of the mansion is accessible via a ramp. Due to the age of the building, the second floor is not accessible. There are pictures of the upstairs available for visitors who are unable to tour the upper floor.
Workers of the World Unite
Workers of the World Unite
Musicians Hall of Fame/Grammy Museum Gallery | Courtesy of Nashville Convention and Visitors Corporation
You know the saying, "always the bridesmaid and never the bride"? In celebration of those musicians standing to the side of the big stars, visit the Musicians Hall of Fame, which is dedicated to the little-known studio musicians who helped create the sounds we all love (did you know that The Monkeys, The Beach Boys, Frank and Nancy Sinatra, Dean Martin and Elvis Presley all used the same musicians?). The Musicians Hall of Fame also houses the GRAMMY Museum Gallery, an interactive facility that lets visitors interact with every aspect of the recording process.

The museum is wheelchair accessible, with ramp access up to the front door. There is one courtesy wheelchair available for loan on a first-come, first-served basis. There are also plenty of chairs available throughout the site.

Find out more here.
Be a Honky Tonk Woman (or Man)
Be a Honky Tonk Woman (or Man)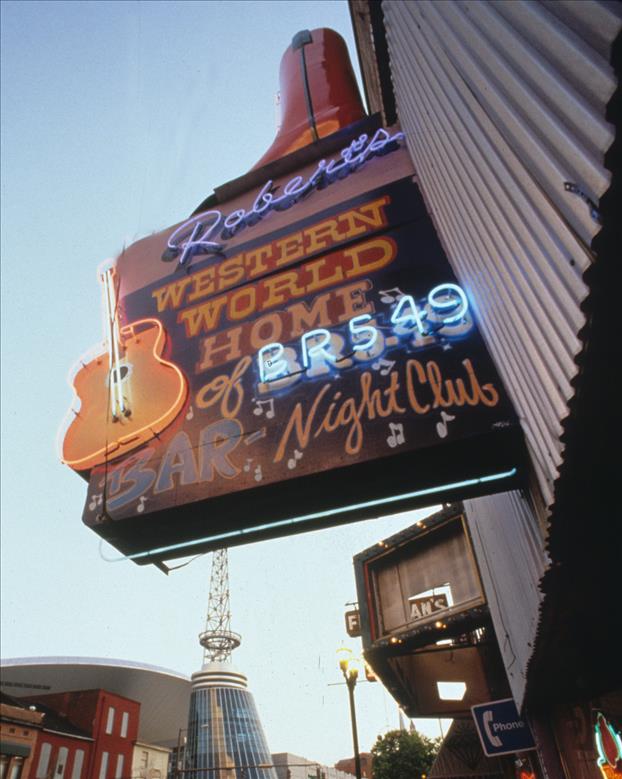 Nashville's Famed Honky-Tonks. | Courtesy of Nashville Convention and Visitors Corporation
With more than 150 live music venues, you're bound to find something you like to hear in Nashville. Don't know where to go? Keep your eyes peeled for the guitar pick-shaped signs that stand outside many of the city's music venues. Of course, there's also the "must-visit" venues, including the famed The Bluebird Café. This 90-seat venue is known as a songwriters' performance space and it has played host to some big names across many music genre – including a young Garth Brooks and country and bluegrass performer Kathy Mattea. The Bluebird has reached a new generation of fans with its key role in the TV drama Nashville, so you might have to fight fans of the show to grab a seat at the twice-nightly shows.

There is limited accommodation for wheelchairs. Email the venue at least two weeks in advance to make any necessary arrangements.

Find out more here.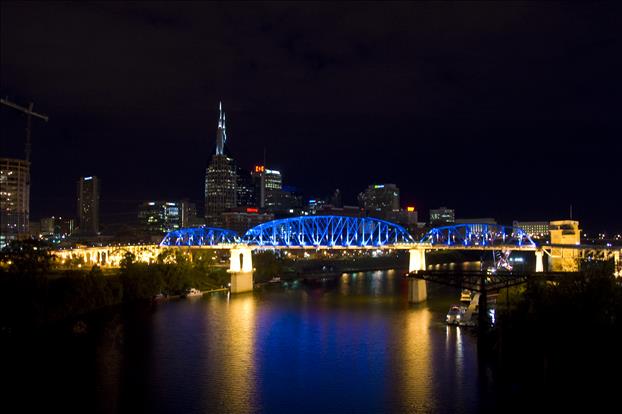 Shelby Street Pedestrian Bridge | Courtesy of Nashville Convention and Visitors Corporation
Get out into nature and shake off the magic of the night before with a visit to Shelby Bottoms Greenway and Shelby Bottoms Nature Center, a 960-acre natural area located in East Nashville. Prop your eyes open to look for birds, amphibians, deer and more. If you are traveling with kids, make sure to visit Nature Play, a children's natural play area where the little ones can dig, climb, run, explore, create and generally create a big old mess (bring spare clothes).

The area has more than five miles of paved accessible trail allowing everyone to explore the bottomland hardwood forests, open fields, wetlands and streams.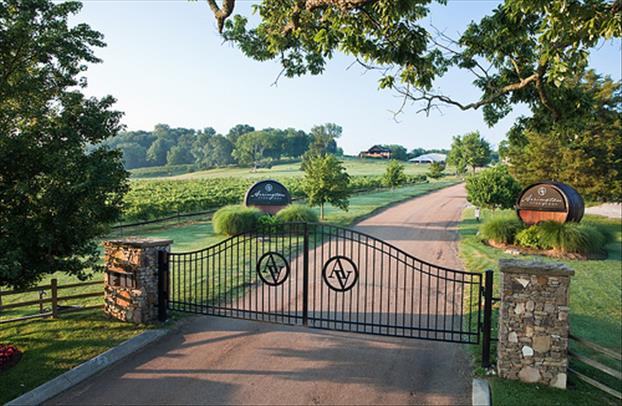 Arrington Vineyards | Courtesy of Nashville Convention and Visitors Corporation
Head 25 minutes out of the city to Arrington Vineyards for a taste of a Tennessee tipple (or three or four). All of the wines on offer at the vineyard are produced onsite "from berry to bottle." Enjoy a wine tasting or just buy a bottle, purchase some gourmet bites (sausage, olives, cheese and wine truffles, picnic hampers can be arranged in advance) and take in the beautiful setting. There is no need to book tastings in advance, but real connoisseurs may want to opt for a private tasting option, which pairs gourmet goodies with five of the vineyard's award-winning wines, as well as a guided tour of the Barrel House and production facility. The vineyard is part owned by country music star Kix Brooks, who can sometimes be seen hanging out and quaffing a glass of his own wine.

There is accessible parking in both the upper and lower parking lots (requires short uphill walk or shuttle transportation). There is a drop-off point near the upper side of the tasting lodge. The main tasting bar has an accessible tasting bar. Accessible tasting options are available for visitors who book the private tasting option. Call in advance to make arrangements at 615-395-0102 ext. 218.

Find out more here.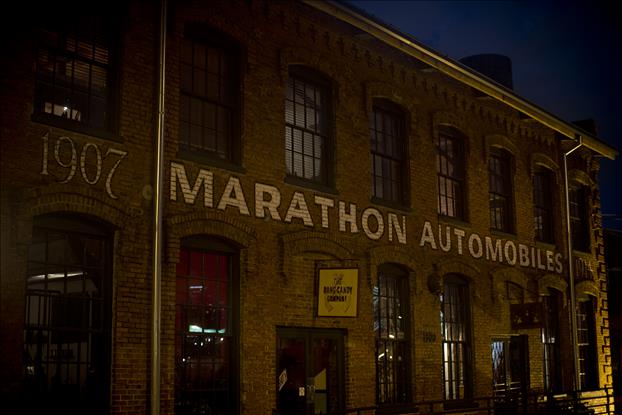 Marathon Village | Courtesy of Nashville Convention and Visitors Corporation
Check out Marathon Village, one of Nashville's hippest destinations. The area is named for the Marathon Motor Works, which operated from the earliest days of the automobile and which was the first to totally manufacture cars in the southern US. The buildings that once housed the car works have been transformed into a mixed-use site that includes flagships stores from the History Channel's "American Pickers" and Jack Daniels, as well as artisan candy, gourmet coffee, a tattoo parlor and a craft brewery. There's also a museum displaying four rare complete Marathons as well as vintage machines from pre-1914 that were used to build the automobiles.

Entrance to the Marathon Motor Works building is via ramp. There is a wheelchair-accessible restroom.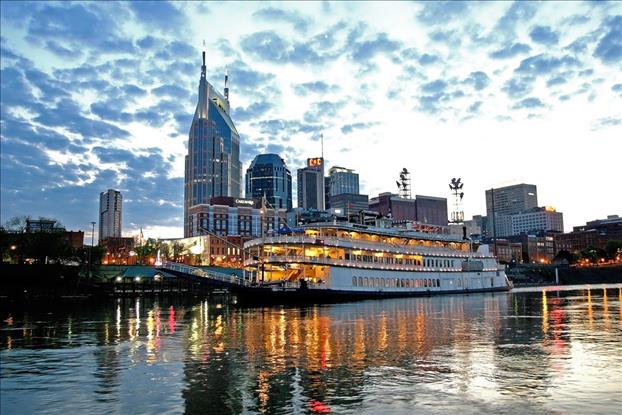 General Jackson Showboat | Courtesy of Nashville Convention and Visitors Corporation

End the day with some great food and music and enjoy the "Hot Country Nights" cruise aboard the General Jackson Showboat, one of the largest showboats ever built. Listen to the music that made Nashville famous from the golden age of Hank Williams, Patsy Cline and Johnny Cash through to current artists, including Blake Shelton and Carrie Underwood (and everything in between). Don't forget to look out at land from time-to-time as you cruise down the Cumberland River. Show cruises are also available during the day.

The General Jackson is mostly wheelchair-accessible, with ramps providing access from the dock and an on-board elevator providing access between the various levels (excluding the Hurricane Deck, which is not accessible).

Depending on where you are seated for the show, you may need to navigate the deck with the help of a portable ramp. Crewmembers will help with the ramp upon request.

The accessible restrooms are located on the main deck.

Find out more here.

Nashville is served by Nashville International Airport.

All airport operated shuttle buses are equipped with wheelchair ramps for passenger assistance.

Passengers can be visually paged on the flight information display system. This service can be requested at the Information Center at 615-275-2098.

TDDs are located in the following locations:

Ticketing Lobby – Across from American Airlines ticket counter

Baggage Claim Level – Across from Carousel #6

Baggage Claim Level - Hotel Message Boards (3 total)

Ground Transportation Level at Short Term Garage (Level 1) - Hotel Message Boards in 'Shuttle/Limo' Waiting Rooms (2 total)

Concourse C – Gate C10

A service animal/ pet relief area is located on the north side of the third (ticketing) level of the terminal. Animals must be leashed at all times, including in the relief area. Find directions here.

Family restrooms are located in the following areas:

Concourse B – Right of Noshville restaurant

Concourse B – Right of Gate B8

Concourse C – Left of Gate C5

Concourse C – Left of Gate C16

A/B Waiting Lounge – Right of stage

C Waiting Lounge – Left of stage

Mobility aids and assistive devices permitted through security checkpoints include: wheelchairs, scooters, walkers, crutches, canes, prosthetic devices, body braces, augmentation and communication devices (e.g. braille note takers, slate and stylus), dog guides, service dogs and hearing dogs.

If you need specific help or advice, call 615-275-1600 to speak with the airport's ADA coordinator.

Accessible services are offered by most taxi companies during airport hours, however, reserving a cab in advance is recommended. Companies with wheelchair accessible taxis include Music City Cab, Yellow Cab, Inc. and Nashville Cab.

Many hotels/motels offer free shuttles to/from the airport. Check with your hotel for more information, including accessibility.

One of the easiest ways to get around downtown Nashville is onboard the Music City Circuit. This free, ADA-compliant accessible system serves many downtown destinations including Bridgestone Arena, Schermerhorn Symphony Center, Ryman Auditorium, Tennessee Performing Arts Center (TPAC), Farmers' Market, Country Music Hall of Fame, First Tennessee Park, Historic Second Avenue, Frist Center for the Visual Arts, Bicentennial Mall, Gulch bars and restaurants, downtown hotels and other downtown attractions and landmarks.

There are more than 75 locations along two routes. The Blue Circuit and the Green Circuit operate from 6:30 a.m. to 11 p.m. weekdays and from 11 a.m. to 11 p.m. weekends.

You'll never have to wait long for a ride. Buses operate every seven to eight minutes between 11:00 a.m. and 7:00 p.m. and every 15 minutes after 7:00 p.m. along 4th and 5th Avenues to and from Demonbreun Street and the Bicentennial Mall area. On weekends, the Blue and Green Circuits operate every 15 minutes from 11 a.m. to 7 p.m. and every 30 minutes from 7:00 p.m. to 11:00 p.m.

The entire Nashville fleet of buses is wheelchair accessible.

Call 615-862-5950 to speak to the ADA coordinator.

Base yourself at the 4-star Union Station, a boutique hotel situated inside a beautifully restored 19th-century railroad station that has been updated to include all modern conveniences. The hotel incorporates all the railroad station's original design, so none of the 125 rooms or suites are exactly the same. The hotel is located just a ten-minute walk to the Country Music Hall of Fame.

Mobility accessible rooms feature a tub/roll-in shower with grab bars. Table and/or desk height are accessible with knee space of 27" (width) and 34″ (height). Hearing accessible features, available on request, include telephone with visual call alert, visual alarm and communication kits with strobe lights and visual doorknocker.

I'm travelling to:

and I'd like to find:

google-site-verification: google1a6906840161d055.html