Travel Ideas
Accessible Possibilities
This article was written in cooperation with the Hawaii Disability and Communication Access Board. Please see their suggested traveler's tips here:

Once you get done with the accessible beaches and pools in Maui, take some time to explore the island's other gems. We promise, you won't be sorry. Depending on the time of year you visit, you could even indulge in one of the best activities on Maui – whale watching. Even if you arrive out of season, there's enough to do that 48 hours just won't be enough to fit it all in.
Kahului | Hawaii Tourism Authority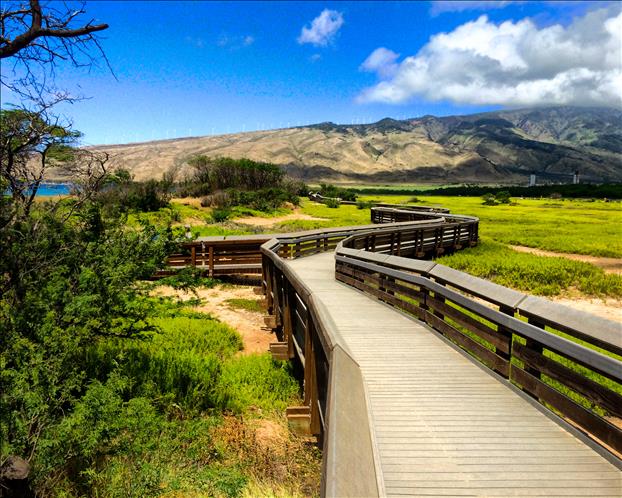 Kealia Coastal Boardwalk | Rick Long
Get up and out early before the sun becomes too hot and pay a visit to the
Kealia Pond National Wildlife Refuge
. The 700-acre refuge is one of the few natural wetlands remaining in the Hawaiian island chain. There's the pond itself and also the Kealia Coastal Boardwalk, which meanders through the wetlands. Don't forget to bring binoculars. If you are lucky, you might catch a glimpse of two of Hawaii's native and endangered waterbirds: the Hawaiian coot and Hawaiian stilt.
Visitor access is along the Kanuimanu Ponds' levees which are flat and wheelchair accessible. Be aware they can be bumpy in parts.
Find out more
here
.
Top Tip: If you are a really early bird, the Kealia Coastal Boardwalk is open seven days a week from sunrise. The refuge itself is open from 7:30 a.m.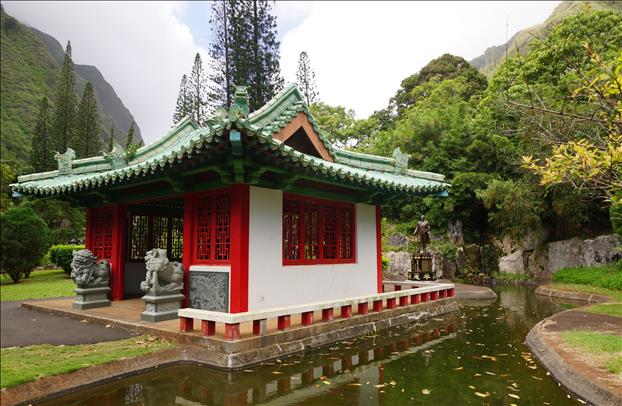 Kepaniwai Park | Allie Caulfield
Explore some of the major immigrant groups to Hawaii at Kepaniwai Park. The 7.6-acre park has scale models of buildings and gardens representing Hawaiian, American missionary, Chinese, Japanese, Portuguese, Korean and Filipino cultures. It's also a great place to enjoy an alfresco lunch. There are a number of picnic pavilions with barbecue pits and grills, as well as uncovered picnic tables overlooking the stream. This popular destination was temporarily closed after a devastating flood in 2016, but is being fully restored.

The parking, pathway, restrooms and pavilions are all wheelchair accessible.
Sure, you can go to a movie on the mainland, but sometimes, there's nothing better to do of an afternoon than kick back, relax and watch something. The Regal Maui Mall Megaplex 12 is the perfect place to pass some time before heading out for the evening. The cinema also has special screenings of performances from The Metropolitan Opera and National Theatre if you prefer something a little more cerebral.

The cinema has wheelchair accessible and companion seating.

It offers closed-captioning devices for individual viewing as well as descriptive video, which offers audio narration of key visual elements of the move.

Find out more here.

Top Tip: If you want to catch a movie, the matinee prices are lower than those in the evening, giving you no excuse not to get an extra-large popcorn!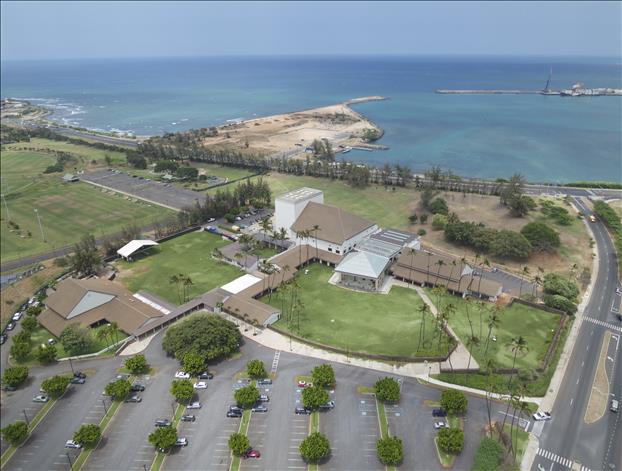 MACC Aerial by BlueSky
Find out what's going to be on at the Maui Arts and Cultural Center (MACC) before you arrive on Maui and snap up tickets in advance. Described as "Maui's entertainment and arts crown jewel," this visual and performing arts complex is situated close to the airport in Central Maui, making it easily accessible. It offers Hawaiian cultural programs, music, dance and theater performances and movie screenings.

All theaters at MACC are wheelchair accessible. Seating arrangements vary for outdoor performances on a show-by-show basis.

The Castle Theater has a Sennheiser infrared system. Complimentary headsets are available from the house manager or the ushers in the Castle lobby.

Find out more here.

Top Tip: Click here to see accessible parking and wheelchair-accessible seating information.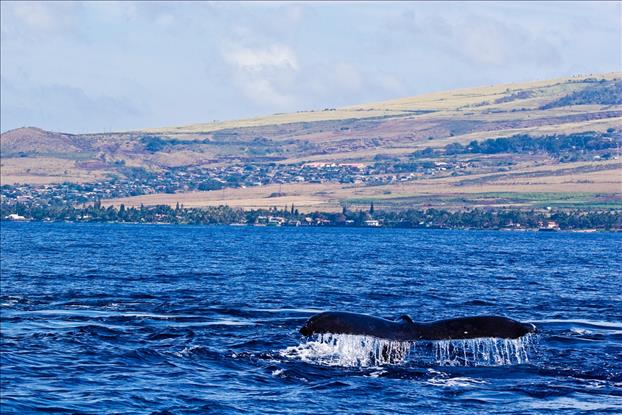 Hawaii Tourism Authority (HTA) / Tor Johnson
If you are on Maui during whale-watching season (roughly November-April), don't miss the opportunity to head out on the water with Hawaii Ocean Project and spend a couple of hours doing some whale spotting. The type of whales that "visit" Maui are the North Pacific Humpbacks (they actually come to mate; Hawaii is very romantic!). These are the fifth-largest whale species in the oceans and can weigh up to 40 tons. Their sheer size means, if they are close by in the water, you are almost guaranteed to see them.

The boat is not strictly accessible, however, if you use a wheelchair that can be folded, the crew will help with boarding and finding seating. Seating is limited to the lower deck.

Be aware, there is no accessible restroom available since it can only be reached via a ladder. It's a roughly two-hour trip, so take that into account before you board, if necessary.

Find out more here.

Top Tip: Don't worry if you don't see any whales. The company will give you a free ticket for another trip.
Complete your whale-watching morning at Whalers Village. On the face of it, this may seem like just another shopping center, but there's an additional perk to this particular mall. Each Monday, Wednesday, Friday and Saturday from 11:00 a.m.-1:00 p.m. there is a talk about humpback whales and the other marine life found in Maui waters given by NOAA's Hawaiian Islands Humpback Whale National Marine Sanctuary. Talks take place at the aptly named Whale Pavilion.

Wheelchairs are available to borrow. Call 808-446-1032 for more details.

Top Tip: The mall also offers a range of other classes and events, including lei making and ukulele lessons. There's also free movies under the stars every Tuesday. Movies start 15 minutes after sunset in the Lower Courtyard.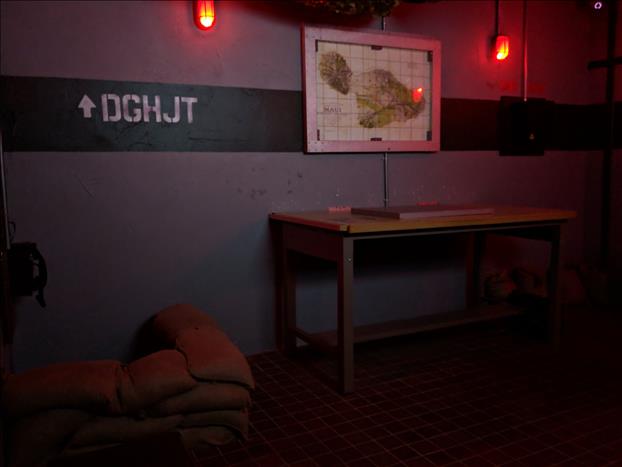 Maui Escape Rooms Ka Puka Bunker | Maui Escape Rooms
Since you are at the mall, go up to the third floor and put your mind to work at Maui Escape Rooms. By means of logic, deduction and sheer brain power, players must solve a series of puzzles and riddles and gain their freedom from a locked room. Fail to solve the puzzle in time and you will be fed to the whales… (just kidding, humpbacks mostly eat fish!). For a more "Hawaiian" experience," opt for the Ka Puka Bunker room and see just how long it takes you to escape from an old abandoned military bunker in the Hawaiian wilderness. Good luck!

Maui Escape Rooms is wheelchair accessible.

Find out more here.

Top Tip: Players should be 12 and over.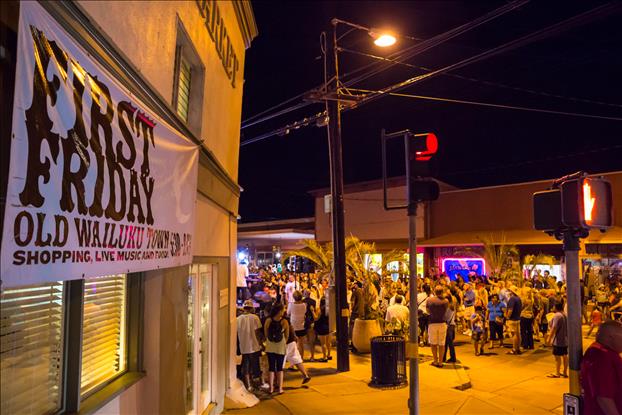 Wailuku First Friday sign | Hawaii Tourism Authority (HTA) / Tor Johnson
In a bid to promote Maui's various small towns, each Friday night there's a "party" in a different part of the island. The towns of Wailuku, Lahaina, Makawao, Kihei and Lana'I take it in turn to host locals and visitors alike, and each one does it in their own style. No matter the week, Maui Fridays guarantee retailers, artisans, crafters, food, music and entertainment. Best of all, the entertainment is free, and on pricey Maui, that's worth a lot.

Top Tip: There are plenty of kid-friendly activities at the various Maui Fridays locations to keep the little ones entertained.
Maui is served by Kahului Airport.

All of Kahului Airports restrooms include wide stalls and side grab bars. There are currently no family/unisex restrooms.

Accessible curbside loading and unloading zones are located in front of the terminal (disabled placard needed).

Accessible parking spaces are located near the terminal building and crosswalks in the public parking lot.

Text telephones are located at second floor mezzanine on both sides of the main restaurant and at the baggage claim area near carousels three and four.

Taxicab services are available near the Baggage Claim area on the ground floor. Drivers will assist anyone using a collapsible wheelchair.

Find out more here.

The Maui Bus public transit service consists of 13 bus routes, all operated by Roberts Hawaii. All vehicles are ADA accessible.

The Upcountry and Haiku Islander routes stop at the Kahului Airport.

Roberts Hawaii also offers a wheelchair-accessible airport shuttle. The wheelchair lift can accommodate up to 500 lbs, the usable platform is 48 inches by 30 inches. Call at least 48 hours in advance to ensure an accessible vehicle is available.

Find out more here.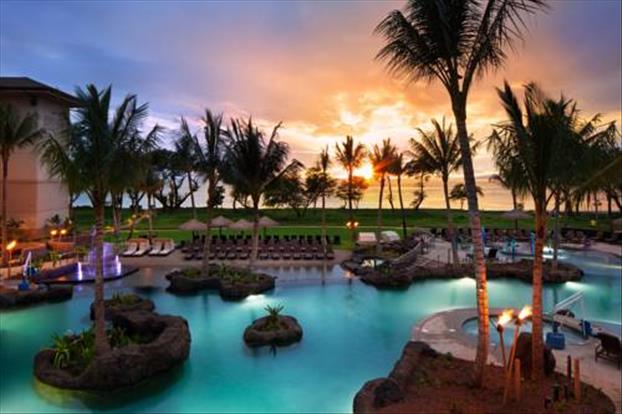 The Westin Nanea Ocean Villas, Ka'anapali

Base yourself at the four-star The Westin Nanea Ocean Villas, Ka'anapali.

The 16-acre resort offers one-, two- and three-bedroom villas. Each one has a private furnished lanai (balcony) and fully equipped kitchen. There's a lagoon-style pool, with a separate pool and beach area for kids. Eating options abound: Mauka Makai, which serves Pacific Rim-inspired cuisine, the Inu Pool Bar, a grab-and-go store that offers quick snacks and the Kauhale Market where you can stock up on essentials.

Mobility accessible rooms feature roll-in showers, transfer showers or bathtubs with grab bars and tub seats.

Hearing-accessible room features include visual fire alarms, doorbell and telephone notification devices and portable communications kits containing visual alarms and notification devices, televisions with closed captioning and TTY.

The concierge desk, restaurant, fitness center, swimming pool and business center are all accessible.

There is valet parking as well as a self-parking area for cars and vans. Complimentary wheelchair-accessible transportation is also available.

Call the hotel with questions about the accessible facilities and services on offer at 808-662-6300.

Find out more here.

I'm travelling to:

and I'd like to find:

google-site-verification: google1a6906840161d055.html