Travel Ideas
Accessible Possibilities
Houston seems to have it all: great museums, fabulous open spaces and very cool art (this is a city that loves its outdoor sculptures). While there's enough to keep you occupied in Houston alone, take a short ride out of the city to Galveston Island to enjoy the glorious Gulf, the beaches and Moody Gardens – an educational theme park that puts visitors who need a little extra assistance front and center.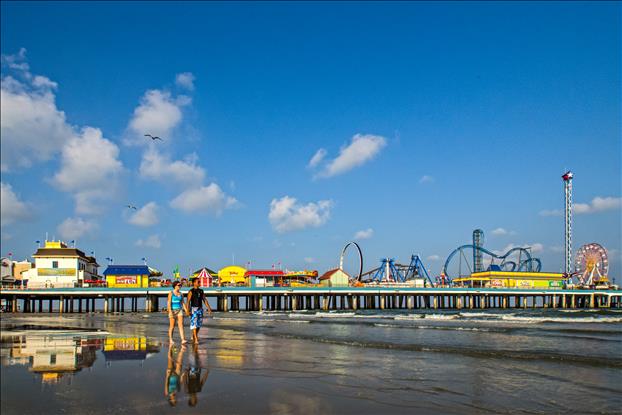 Galveston Pleasure Pier at Daytime | Galveston Island Convention & Visitors Bureau
Tour of one of the busiest ports in the world, and, best of all, do it for free with a 90-minute narrated Sam Houston Boat Tour. The trip, complete with mid-point refreshments, is sponsored by the Port of Houston Authority. The tour starts at the M/V Sam Houston pavilion at the Turning Basin, travels east under the 610 bridge to the Washburn Tunnel and back. It identifies port infrastructure, vessels on the channel and historic sites. For security reasons, advance reservation is needed.

The boat can accommodate up to 10 passengers with wheelchairs at a time. A ramp is available to access the boarding area. There is no need to notify the port authority of any accessibility requests in advance.

Find out more here.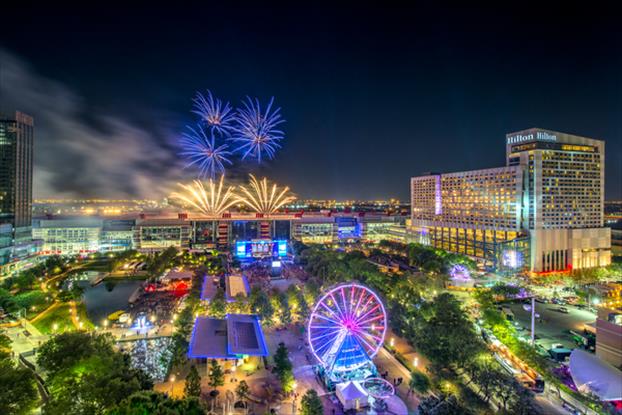 Discovery Green | Photo: Geoffrey Lyon/Visit Houston
Take some time to chillax at Discovery Green, a public urban park in Downtown Houston. The park includes a lake, bandstands and venues for public performances, a children's area and multiple recreational areas. There are plenty of paved trails and pathways. If you come in the winter months, the brave folk among you can enjoy "Wheelchairs on The Ice at Discovery Green" when non-motorized wheelchairs can be taken out onto the ice for a spin!

The park has fully accessible restrooms. See the map for paths and trails.
Time for (Retail) Therapy
Time for (Retail) Therapy
The Galleria | Visit Houston
Sometimes, you just want to take a break from art and culture and indulge in one of the most-loved pastimes the world over – shopping. With 30 million or so visitors each year, you can't go wrong at The Galleria. It's Texas' largest shopping mall and the fourth largest in the U.S. There are more than 400 shops and restaurants, not to mention beauty salons, post office and even a full-size ice rink.

Accessible parking is available. Family restrooms are located in Galleria 1, near The Little Galleria MD Anderson Children Cancer Hospital play area. All restrooms are accessible. If you need a rest, soft seating is available in Galleria 1 in front of Sephora on the second level and in Galleria 2 between Top Shop and Peli Peli. Complimentary wheelchairs are located at Simon Guest Services, Level 1, near the Westin Galleria Hotel.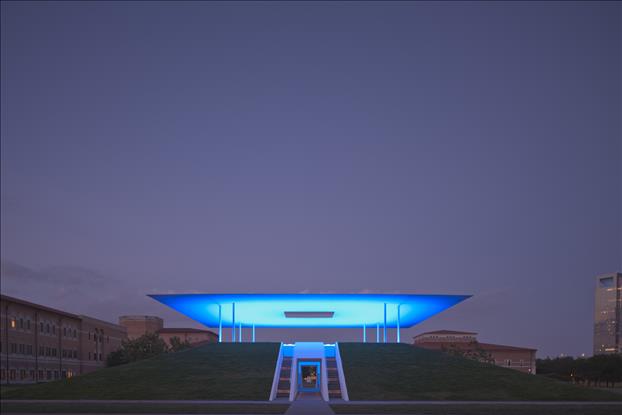 James Turrell "Twilight Epiphany" Skyspace at Rice University | Photo: Paul Hester/Visit Houston
Enjoy the gloaming, that special time when day becomes evening, becomes night at James Turrell's "Twilight Epiphany" in the Skyspace on the Rice University campus. Constructed of grass, concrete, stone and composite steel, the structure's big draw is a mesmerizing LED light sequence that projects onto the ceiling and through an aperture in the roof just before sunrise and at sunset.

The Sunset light sequence begins about 10 minutes before the sun goes down. Each sequence lasts approximately 40 minutes (if you are an early bird, the Sunrise sequence begins approximately 40 minutes before sunrise). Advance reservation is required for the Sunset sequence. The instillation can be visited from Wednesday-Monday from 5:00 a.m.-10:00 p.m.

The Skyspace is accessible via the lower viewing area. There are two spaces for wheelchairs.

There is bench seating inside the Skyspace in both the upper and lower viewing areas.

Find out more here.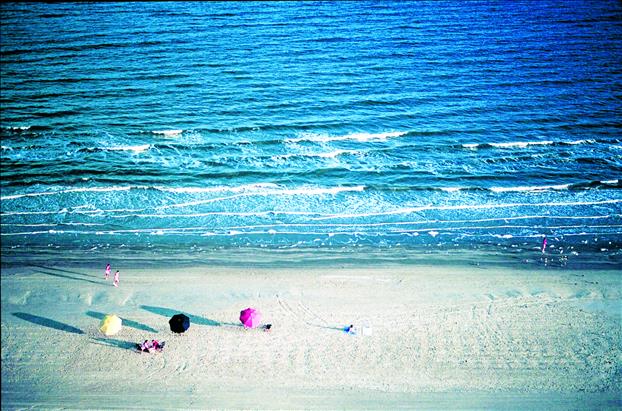 Galveston Beach Aerial | Visit Houston
Head out of Houston to spend time on Galveston Island, about an hour's drive from the city. Take advantage of the island part of Galveston Island with a trip to the beach. Once you are done dipping in the sea (rather, the Gulf), enjoying the sand or just relaxing in the fresh air, head over to the 61st Street Fishing Pier, to try your luck (or just watch others try theirs). It's free to visit, but you have to pay to fish.

Free beach wheelchairs (equipped with large wheels, PVC frames and comfy seat cushions) can be borrowed at all of the Galveston Park Board of Trustees-operated beach parks on the island. Chairs are available from the gate attendants at East Beach, Stewart Beach, Dellanera RV Park, Pocket Park 1, 2 and 3 (photo ID required) on a first-come, first-served basis.

The 61st Street Fishing Pier has accessible restrooms.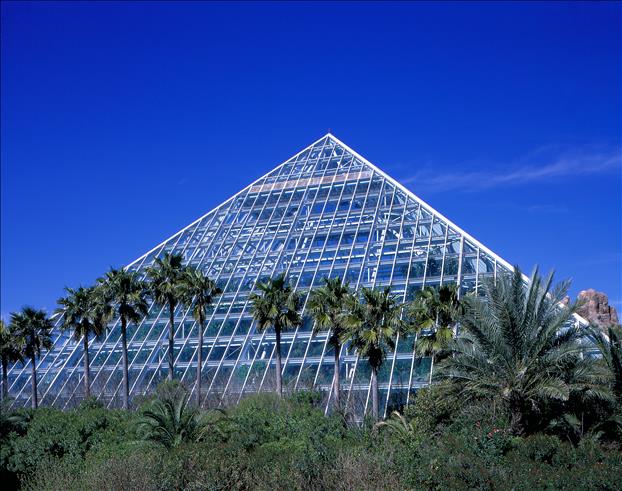 Moody Gardens Pyramid and Palm Trees | Visit Houston
If you can tear yourself away from the beautiful beach, make Moody Gardens your next stop. The site began in the mid-1980s with a hippotherapy riding program for people with head injuries and has grown into a really popular educational destination that provides employment and enjoyment for people that have a range of physical and emotional disabilities. And it's really, really fun. There's an aquarium, NASA-inspired exhibits, a rainforest, 3D theater, paddlewheel boat, ropes course and zip line as well as changing seasonal attractions.

The entire property is designed to accommodate people with disabilities. There are more than 70 accessible parking spaces and curb ramps. All buildings have ramps that lead to entrances, and all of the restroom facilities are accessible. There are several vans with wheelchair lifts for on-property transportation.

Wheelchairs are available on a first-come, first-serve basis in the Visitor Center and Aquarium (photo ID required).

The attractions are wheelchair accessible and welcome service animals. The Rainforest and Aquarium Pyramids offer unique visual and tactile experiences.

The theater has accessible seats with removable arms and areas for personal wheelchairs.

The interactive splash pad, river and wave pool at Palm Beach have ramps leading into the water (operates in the summer only)

Find out more here.
Get Ready For Your Close Up
Get Ready For Your Close Up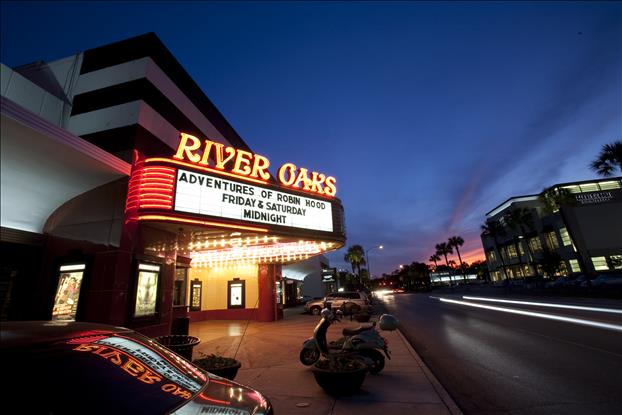 River Oaks Theatre | Photo: Julie Soefer/Visit Houston

Make your way back to Houston in time for a movie at the ornate River Oaks Theatre. This movie house was built in 1939 and retains its Art Deco interior. As well as popular blockbusters, River Oaks showcases independent and foreign language films. Enjoy eclectic midnight screenings each Friday and Saturday night, and how about a cocktail while you're watching? The River Oaks Lounge isn't your usual concession stand. Libations on offer include red and white wine, herbal teas and gourmet coffee and vegan cookies.

Wheelchair-accessible seating is available.

The theater has Alternative Listening Devices, which use infrared technology, as well as CaptiView, a personal closed-captioning system (ask the cashier to suggest the best place in the auditorium to receive a signal) and Fidelio, an enhanced audio system for content that is made available by distributors.

Find out more here.

Houston is served by George Bush Intercontinental Airport Houston.

The airport restrooms are wheelchair accessible. There are family restrooms located throughout the airport.

Animal relief areas can be found throughout the airport (see map for locations):

Terminal A, west side near Hotel Shuttles and Parking Shuttles pick-up

Terminal B, south side near Limousines pick-up

Terminal D, southwest and southeast of terminal entrance

Terminal E, northwest and northeast of terminal (shared with Terminal D)

Both the pre-security below-ground Subway train and the post-security above-ground Skyway Automated People-Mover are wheelchair accessible.

TTY telephones are located throughout the airport. The phones are designated with the TTY symbol and may be found next to the pay telephones.

Accessible parking spaces are located on all levels at all airport-owned parking garages as well as at ecopark and ecopark2. There are accessible shuttles from ecopark locations. Call 281-233-1786 to find out more about accessible parking and shuttle service.

Find out more here.

SuperShuttle offers wheelchair-accessible transportation to and from the airport. Book in advance.

Companies offering wheelchair-accessible taxis in Houston include United Cab and Yellow Cab.

Uber recently started UberACCESS in Houston, which makes wheelchair-accessible vehicles available at prices lower than regular cabs.

All METRO buses are accessible with either ramps or lifts. Many of the buses have kneeling capabilities. Vehicles are equipped with an easy-to-reach call bell and special securement belts for wheelchairs and scooters in two 30"x 48" wheelchair securement areas.

The system offers automatic audio and visual announcements on buses at major stops, main intersections and transfer points along the route.

The METRORail system has accessible light-rail cars and accessible rail stations. Stations have sloped ramp access from both ends of level boarding platforms. All stations feature audio and visual announcements explaining when the next train is arriving

There are audio and visual announcements of stops inside the rail cars. Each rail car offers four areas for wheelchairs (no securement necessary). The doors open automatically and have a sensitive edge that prevents closing if an object or person is detected in their path

The edge of the platform is marked with contrast-colored, 24-inch tactile warning strips with truncated domes.

Base yourself at the 4-star Hyatt Regency Houston. Situated in the heart of downtown, the recently renovated Hyatt Regency Houston is connected to high-end shops, restaurants and services via the city's seven-mile underground tunnel (not completely accessible). A quick ride on the Light Rail brings you to the Museum District, NRG Park, the Houston Zoo and the Texas Medical Center. Best of all, enjoy a meal with a twist at Spindletop, the hotel's iconic revolving restaurant on the 34th floor.

There are 20 ADA-compliant hotel rooms. Accessible rooms have lowered closet shelves, thermostats, light switches, and peephole. Lowered bathroom features, including door handle, towel hooks and towel rack. Bathrooms have wide doors, raised toilet seats and grab bars with either a roll-in shower or accessible tub.

Hearing-accessible features include emergency strobe-light smoke detector and closed caption television decoders and TDD.

The hotel has staff members proficient in sign language.

Find out more here.

I'm travelling to:

and I'd like to find:

google-site-verification: google1a6906840161d055.html