Travel Ideas
Accessible Possibilities
There's a list at least a mile long of what to do in the Mile High City, so it's no surprise then that Denver was named one of "Travel + Leisure's" best places to travel, as well as earning the number 11 spot on the magazine's annual survey of "America's Favorite Cities." Take advantage of Denver's proximity to the mountains and to nature, as well as its urban treasures, and enjoy the city no matter what season you visit.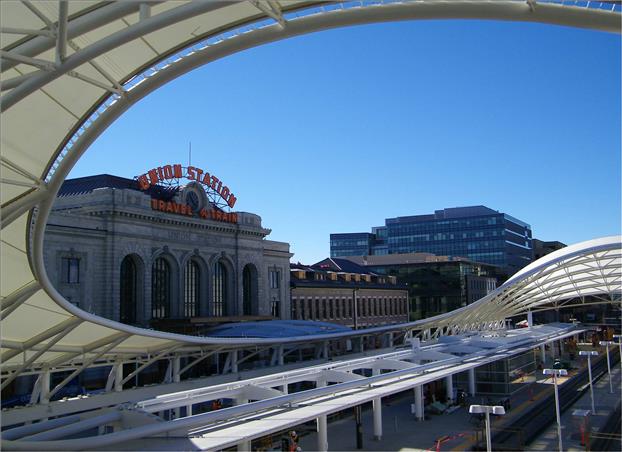 View of Denver Union Station from new RTD Light Rail stop. | Photo: RTD and Visit Denver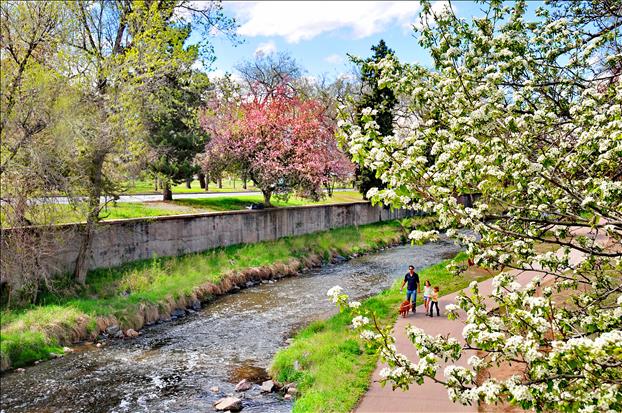 Cherry blossoms along Cherry Creek. | Visit Denver
Visitors to Denver can't fail to notice the stunning beauty of the surrounding area. If Rocky Mountain National Park is just a bit too far, there's no need to give up on nature altogether. Do what Denver locals do and head to Cherry Creek State Park, which has the distinction of being known as Denver's "natural and spacious backyard playground."

The centerpiece of the park is an 880-acre reservoir. There's a swim beach (in season), horse stables, shooting range, model airplane field and a host of walking trails that take visitors through grasslands, cottonwood trees and marshes – ideal for wildlife spotting.

There are accessible facilities at the fishing access areas, campground, swim beach and group picnic sites.

The Cherry Creek, Campground and Piney Creek trails are all accessible.

Accessible parking is designated throughout the park.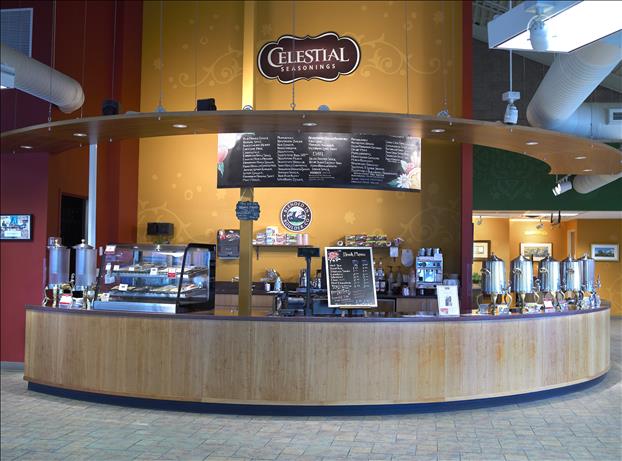 Celestial Seasonings Tour Center and Tea Sampling Bar. | Photo: Celestial Seasonings
Colorado may be all about the craft beer (and other pleasures), but we recommend heading down the road to Boulder, Denver's close neighbor, for a visit to the Celestial Seasonings factory. Take a 45-minute tour and learn all about the making of this popular brand, from raw ingredients to finished products. You'll get the chance to walk through the tea manufacturing facility to see how teas are blending, packaged and even shipped. If you haven't had your fill of tea (you can drink as much as you want at the sampling bar), visit the Celestial Café for a well-earned cuppa before heading back to Denver.

The tour is wheelchair accessible. Courtesy wheelchairs are available to borrow from the Tour Center.

Children under five are not allowed on the factory part of the tour but they are welcome at the rest of the facility.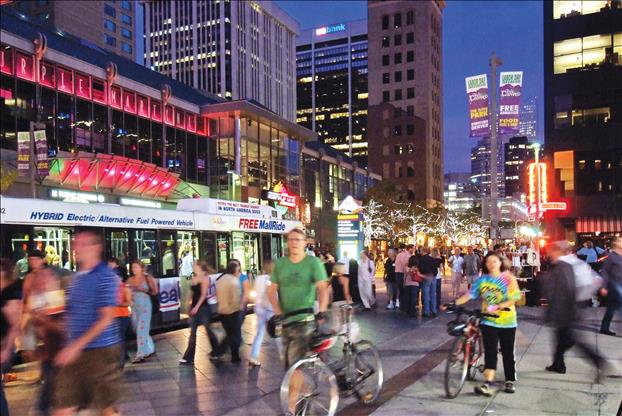 Pedestrians enjoy shops, restaurants, entertainment venues, and the Free Mall Ride on the 16th Street Mall. | Photo: Stevie Crecelius/Visit Denver
For shopping, eating, drinking and people watching, there's no better place to be in Denver than the 16th Street Mall. There's more than 40 cafes lining the street, as well as a shopping and dining complex (complete with movie theaters), the D&F Tower (a two-thirds replica of the Campanile of St. Marks in Venice) and easy access to the innovative bars and restaurants of the popular LoHi neighborhood, and plenty more besides.

The Mall stretches for 1.25 miles. If you decide not to walk, or you want to get your bearings before deciding what to visit first, hop on one of the 36 electric-powered MallRide buses that ply their way up and down the street. There are stops on every block between Civic Center and Union Station. The vehicles operate from early morning until 1.20 a.m.

The buses have two wheelchair spaces.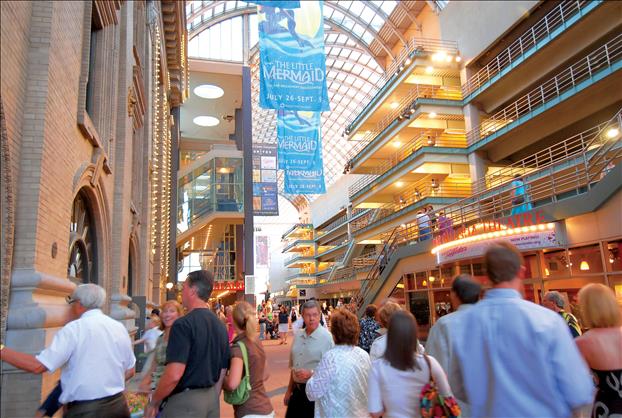 Visitors flock to various shows at one of the country's largest performing arts complex. | Photo: Steve Crecelius/Visit Denver
You'll be spoiled for choice of when deciding what show to see at the Denver Performing Arts Complex (DPAC). This is one of the largest performing arts centers in the country. It spans four blocks and houses ten performance spaces all connected by a mammoth glass roof. Whether you opt for theater, dance, ballet, the symphony or take in a Broadway touring production, with 10,000 seats, you should be guaranteed a spot.

Courtesy wheelchairs are available for all theaters at the Denver Performing Arts Complex. Wheelchair and companion seating are available in each theatre.

The Buell Theatre, Boettcher Concert Hall and the Ellie Caulkins Opera House have courtesy wheelchairs to assist guests from the Arts Complex garage or the 14th Street entrance to their seats. Contact the House Manager upon arrival to request use of these wheelchairs or call 720-865-4200to book in advance.

If you need wheelchair assistance in the Garner Galleria Theatre, Stage Theatre, Space Theatre, Ricketson Theatre, Jones Theatre, Seawell Grand Ballroom or Conservatory Theatre, contact an usher or Patron Services upon arrival.

Wheelchair-accessible ramps are located throughout the Arts Complex starting curbside at 14th and Curtis streets. Additional drop-off locations at curbside ramps are located at 13th Street underneath the Arts Complex and outside the Jones Theatre at the corner of Speer & Arapahoe.

Wheelchair ramps are located in the parking garage on levels 3, 4 and 5. Take the elevator to level 3 to enter the theaters.
Assistive Listening Devices, including hearing aid-compatible units, are available at all DPAC theaters (photo ID required).
Denver Center Theatre Company, Denver Center Attractions and National Theatre Conservatory offer ASL-interpreted performances of productions on select dates.

Denver Center Attraction's Broadway tours offer open captioning on selected dates. Contact the box office for further details.

Opera Colorado utilizes a seat-back translation system, which displays lyrics in both English and Spanish.

The Colorado Ballet, Denver Center Theatre Company, Denver Center Attractions, National Theatre Conservatory and Opera Colorado offer audio-described performances of productions on select dates.

Playbills for all Denver Center Theatre Company, Denver Center Attractions and National Theatre Conservatory productions are available in braille.
Find out more here.
Rocky Mountain Arsenal Wildlife Refuge | Visit Denver
Rocky Mountain Arsenal Wildlife Refuge is one of the largest urban refuges in the U.S., and it happens to be located just northeast of Denver. The 15,000-acre refuge is home to more than 330 species of wildlife, including bald eagles, bison, black-footed ferrets, deer, coyotes, burrowing owls and prairie dogs. You can explore some of the trails, or enjoy the self-guided Wildlife Drive (takes about 45 minutes to an hour). Make sure to stop off at the Visitor Center, which has an interactive exhibit hall showing the sites history and detailing the wildlife to be found throughout the site. The best times to spot animals is at dawn or dusk, so get there early – if you can.

There are plenty of accessible facilities throughout the park (see map). Call 303-289-0930 for more information or to find out about accessible facilities.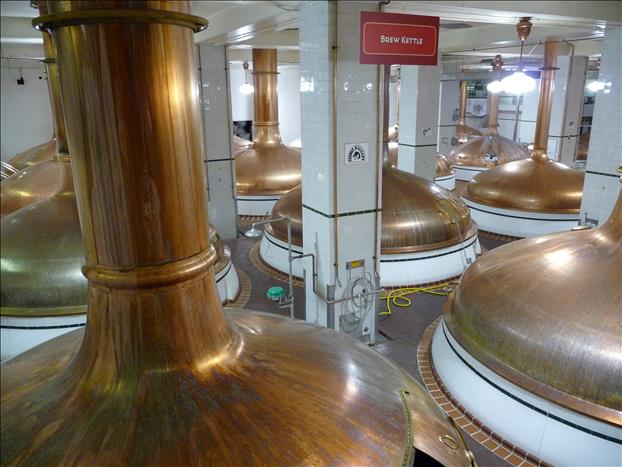 Inside the Coors Brewery. | Photo: Rich Grant/Visit Denver
There's no end of breweries in the Denver area, from micro through to massive. At the larger end of the scale is Coors, which holds the distinction of being the largest single-site brewery in the world. Take a free tour of this behemoth brewing facility in the neighboring town of Golden and learn all about the history of this company, which has been a'brewing since 1873. The 30-minute experience includes a self-guided tour of the malting, brewing and packaging processes as well as plenty of history and memorabilia. And before you ask there's plenty of opportunity for sampling some cold ones (must be 21 years or older).

The brewery is accessible. Call the visitor operations coordinator at 303-277-2552 to make any special arrangements or to find out more about the accessible opportunities available.
Slow down and take in some of Denver's historic sites and landmarks on an interactive Story Trek. The premise is simple; make your choice from dozens of Story Sites and featured Treks or build you own journey, then make your way to the various sites on your Trek (you can choose as many or as few as you want), dial 303-562-2407 or download audio files to hear a free story about each site. Treks include "Women of the West," "Settling the Frontier" and "Mile High Art and Culture." Learn all about notable Denverites, including Margaret "Molly" Brown, William Newton Byers or Mary Cawker, or just mix and match and see where you end up.

Accessibility varies at each site. Contact for exact details.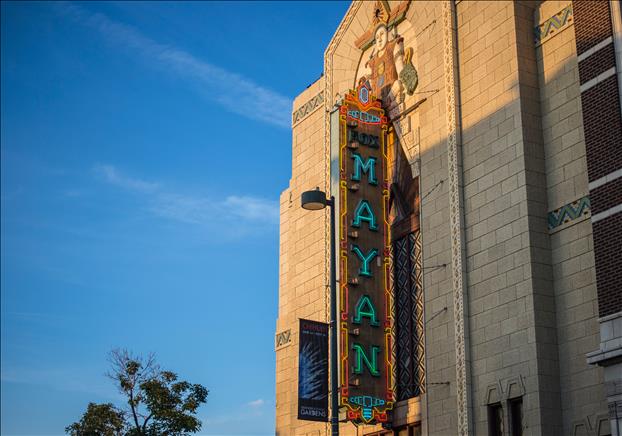 Exterior of the Mayan Theater. | Photo: Evan Semon/Visit Denver

You'll see more than just a movie at the historic Mayan Theatre. The cinema, which was built in 1930, is one of the country's few remaining movie houses designed in the Art Deco Mayan Revival style (a style especially loved by Frank Lloyd Wright). There are three screens – including a large auditorium downstairs – and a café that opens 30 minutes before the first scheduled show time until 15 minutes after the last show begins.

Wheelchair-accessible seating is available.

The theater has Alternative Listening Devices, which use infrared technology, as well as CaptiView, a personal closed-captioning system (ask the cashier to suggest the best place in the auditorium to receive a signal) and Fidelio, an enhanced audio system for content that is made available by distributors.

Find out more here.

Denver is served by Denver International Airport (DEN).

Large, private unisex/family restrooms are located throughout Jeppesen Terminal and on each concourse. Accessible restrooms are also available throughout the airport. The airports only pet relief area is located on Level 2 West, Jeppesen Terminal near Door 200.

Visual paging monitors are located in near flight information display monitors and near the baggage claim carousels.

Several TTY public pay telephones are located throughout the terminal and concourses.

Denver International Airport provides accessible parking spaces at all airport-owned parking facilities. In the East and West parking garages, these spaces are located next to entry doors into Jeppesen Terminal, on garage Levels 1, 2, 4 and 5 (no accessible parking is available on Level 3).

If you are using outlying parking options, such as economy or shuttle lots, accessible spaces are located near the pickup/drop-off shelters in the Economy West and Economy East parking lots, and at the Pikes Peak and Mt. Elbert Shuttle lots. All vans and buses serving these lots are lift-equipped. Wheelchair or electric cart service is available from your airline. Call 303-342-4650 for more information.

The following ground transportation companies operate accessible taxis and will pick up passengers at curbside on Level 5, west-side of Jeppesen Terminal.

Dashabout: 800-720-3274 (call two days in advance)

Metro Cab: 303-333-3333

Mobility Plus (Yellow Cab): 303-777-7777

Mobility Transport Service: 303-295-3900 (call 24 hours in advance)

RTD access-a- Ride: 303-292-6560

All RTD buses, including the free MallRide, free MetroRide, and rail vehicles are accessible for mobility aids, such as wheelchairs, electric scooters, Segways, walkers, and crutches. Bus and rail operators are trained to assist passengers who need help boarding or exiting the vehicle.

There is an automated voice and display announcement system on buses across the district.

Find out more here.

Base yourself at the 4-star Kimpton Hotel Monaco. This stylish hotel has an award-winning in-house restaurant, which Zagat called one of America's best restaurants. Book a table at Panzano and enjoy northern Italian fare or indulge in some signature dishes or sip on beers, wines and cocktails at the new Panzano Bar. As well as great food, the hotel has a daily hosted wine reception and complimentary morning Lavazza coffee and tea service in the lobby, a salon and spa, complimentary bicycles and an open pet policy.

The hotel has accessible deluxe rooms, as well as the accessible Monte Carlo suite. Mobility features include an accessible tub with grab bars and a handheld showerhead as well as roll-in showers. Communications features, including TTY capabilities, TVs with closed captioning or closed-captioning decoder, are available for guests who are Deaf or have low hearing.

The restaurant, business center and exercise facility are all wheelchair accessible.

I'm travelling to:

and I'd like to find:

google-site-verification: google1a6906840161d055.html