Travel Ideas
Accessible Possibilities
Although Chicago is located in the heart of the relaxed Midwest, it is a bustling and busy city, brimming not only with shopping and dining, but with a robust arts scene, from museums to performances. With the right amount of planning, you can take in museums by day and music by night, and still have time for a little shopping on Michigan Avenue and dining on legendary deep dish pizza as well as foods from around the world in this truly global and diverse city. Another defining characteristic of Chicago is that moments of silence and escape from the city can be found within the city itself, mainly on the beaches that line Lake Michigan, but also in the wooded parks and in the renowned sky-high observation decks on the top of the John Hancock Building and the Sears Tower.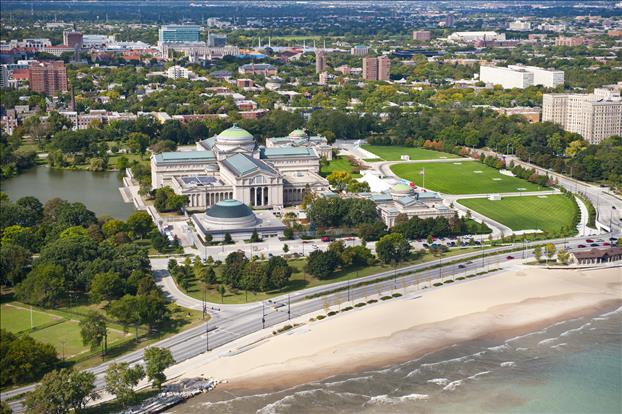 Museum of Science and Industry Aerial View | ©City of Chicago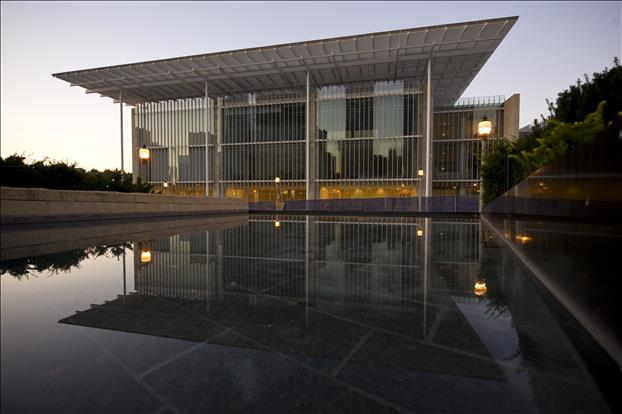 Art Institute of Chicago: Modern Wing | ©City of Chicago
Check out the Art Institute of Chicago, which is extremely accessible and caters to many needs, so there is a whole world that can be discovered in the collections here. The highlights of the museum's collection include Grant Wood's American Gothic, Vincent van Gogh's Bedroom, and Edward Hopper's Nighthawks. In addition to being fully wheelchair accessible, the museum offers miniature tactile versions of many of its displays so that guests who are blind can also enjoy them.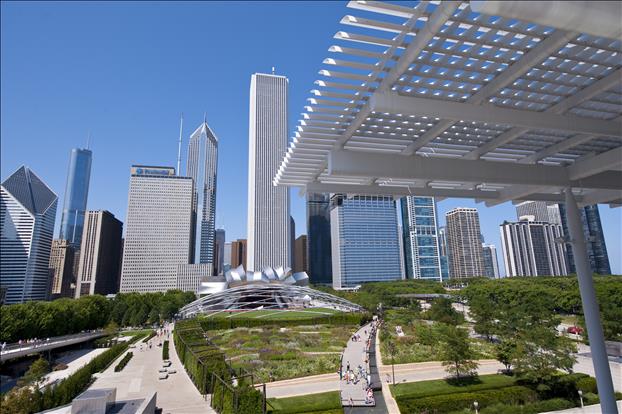 Lurie Garden View at Millenium Park | ©City of Chicago
Enjoy lunch at Terzo Piano, a wheelchair accessible restaurant at the Art Institute, which has an Italian vibe, but is based on local, organic ingredients. Then take the 625-foot elevated Nichols Parkway Bridge from the Art Institute's Modern Wing to Millennium Park. The bridge was built with accessibility for all in mind, and slopes gently over Monroe Street and the park's Lurie Garden. Snap some photos with the famous Cloud Gate statue. If it is summer, you may want to linger longer, perhaps splashing in the Crown Fountain.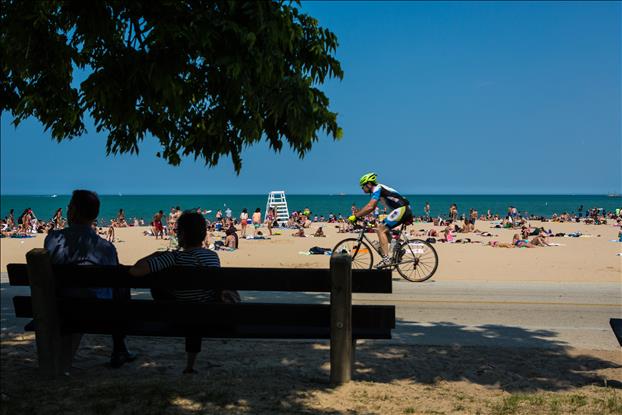 Lakefront | Adam Alexander Photography
Explore the Chicago Lakefront Trail, which offers 18 miles of paved walkway along Lake Michigan. You can simply take in the lakefront views from here, or engage in a strenuous workout or long walk. Along the trail you can find not only great views of the city lake, but also many parks, playgrounds, beaches and concession stands. Some of the beaches are even wheelchair accessible with walkways out to the water.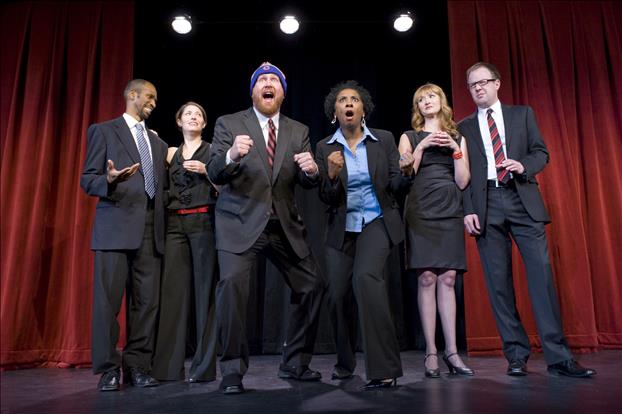 Second City Cast 2012 | ©The Second City
Visit the Second City, the well-known comedy club where many famous comedians and actors, from Mike Myers to Tina Fey, got their start. The club specializes in improv, and tickets can often be bought upon arrival. But patrons with any accessibility needs should call the box office at 312- 664-4032. The Second City serves food during their shows, or you can explore the options nearby, such as the Adobo Grill, known for its guacamole and made-at-your-table margaritas. Kamehachi is also close by, and is one of the oldest sushi bars in Chicago, but also serves grilled seafood, steaks and salads. Both are wheelchair accessible.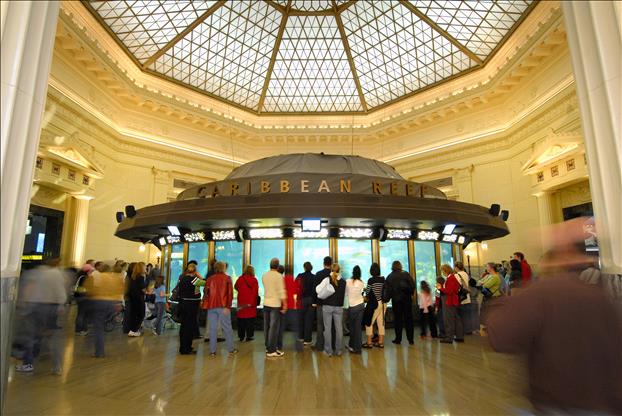 The Caribbean Reef exhibit at the Shedd Aquarium. | © Choose Chicago
Visit Shedd Aquarium, where a glass-enclosed pool stretches out over Lake Michigan, allowing you to watch dolphins and other animals while feeling you are actually out on the sea. The facility is wheelchair accessible and sign-language interpretation is available during all animal shows. To arrange for sign language interpretation, please contact Shedd two weeks before you visit at contactus@sheddaquarium.org or by calling 312-939-2438 or 1-800-526-0857 for relay service.

The aquarium is also currently working on adding tactile elements to some of its tours to better cater to those who are blind or have low vision.

Wheelchairs are available at the information desk for no fee.
Indulge in the legendary deep dish Chicago pizza at Gino's East, where you can add to the writing and drawings that diners have been covering the walls here with since 1966. This location on Superior Street is wheelchair accessible. The pizza with its golden crust comes in many varieties, from classics covered in sausage and pepperoni to more offbeat options like blue cheese and jalapeno peppers.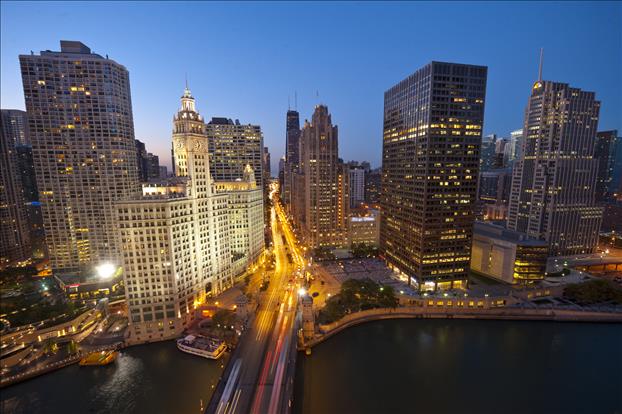 Magnificent Mile Night lights | ©City of Chicago
Head to Michigan Avenue's Magnificent Mile area for some lunch, shopping and people watching. If it's cold outside, you can duck into the numerous shops and cafes to get warm. Make sure to see the Historic Chicago Water Tower, a city landmark. Then make your way to the John Hancock Center, where you can ride an elevator up to the 94th floor for astonishing views from the 360 Chicago viewing deck. You may not be able to experience all of Chicago during your short trip, but from up here you can see all of the city and beyond to Indiana, Michigan and Wisconsin.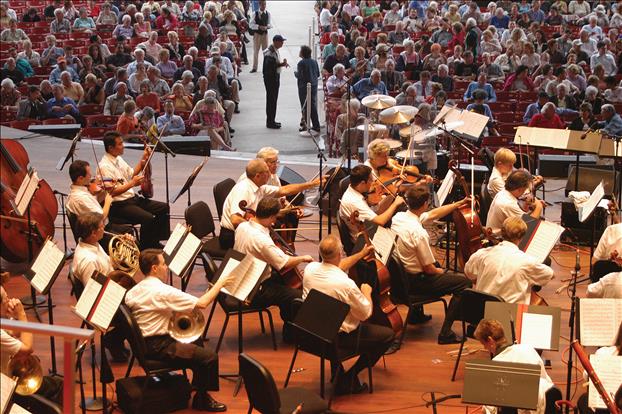 Chicago Orchestra Concert | © Choose Chicago

Make sure you have made advance reservations to enjoy a performance by the Chicago Symphony Orchestra. Or, if the Orchestra isn't playing, maybe try to catch another performance in the Chicago Symphony Center, as the venue offers options for those with disabilities, and the ornate architecture and design alone are worth the trip here. Or you can head out to enjoy some legendary Chicago blues music in a variety of locations. Your best bets for this are bars and clubs concentrated in Lincoln Park, home to the wheelchair accessible and well-respected Kingston Mines, and the South Loop area.

If you are flying into Chicago's O'Hare or Midway airports, these both have accessible stations for taking the "el" train into the city, which can be a good option for getting to your hotel, especially if you do not have a lot of luggage. All el trains are accessible, including having places for securing wheelchairs; and most, but not all, el stations are accessible; those that are accessible can be found on this list. Many stations rely on elevators, which can sometime be out of order, but updated information about elevator outages and other situations that may affect accessibility can be found here.

There are several other options for other accessible airport transit, including Open Taxis, which provides wheelchair accessible taxis.

For getting around the city itself, it is best to avoid driving, as parking is expensive and is often located in underground garages, which have height limits and cannot accommodate tall vehicles, including some vans. The CTA city bus system is entirely accessible, and the Metra train and most of its stations are also accessible.

Click

here

to view Choose Chicago's Accessibility Guide.

I'm travelling to:

and I'd like to find:

google-site-verification: google1a6906840161d055.html